Positive SSL Vs RapidSSL Certificates Comparison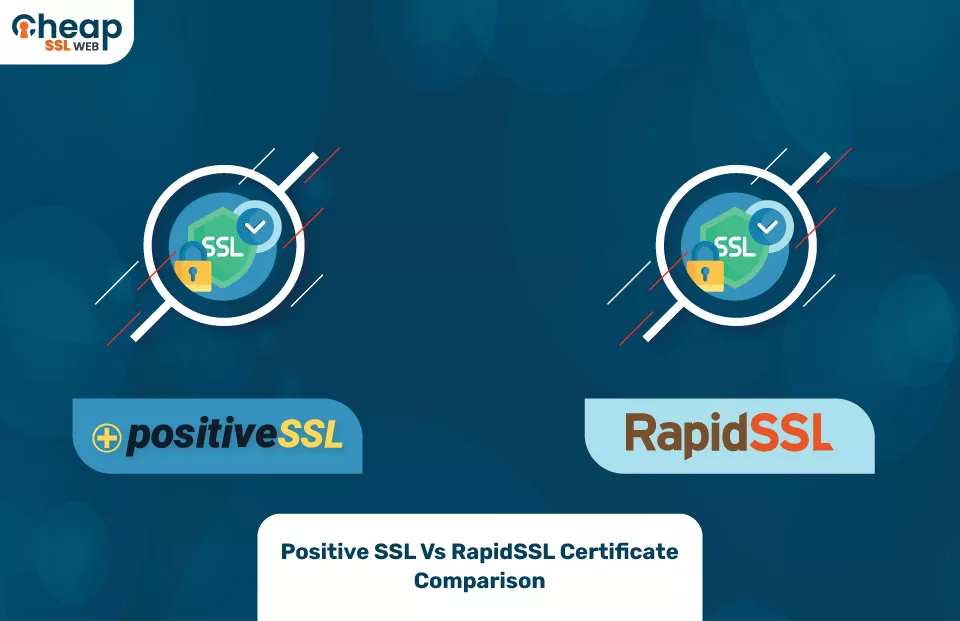 Analyzing the Differences: Positive SSL vs RapidSSL Certificates
When it comes to enhancing the security of your website through a cheap SSL certificate, two well-known choices available are Positive SSL and RapidSSL. Although they have similarities, it is crucial to grasp the fundamental distinctions between these certificates in order to make a knowledgeable choice for your website's security requirements. This article aims to compare PositiveSSL vs RapidSSL certificates, emphasizing the factors that distinguish them from each other.
Certificate Authority
One of the primary distinctions between Positive SSL and RapidSSL lies in their certificate authorities (CA). Positive SSL is provided by Sectigo CA (formerly known as Comodo CA), a reputable and well-established player in the industry. On the other hand, Rapid SSL is offered by DigiCert CA, which also boasts a strong reputation for SSL certificate services.
Warranty
Another significant difference is the warranty offered by each certificate. PositiveSSL comes with a generous warranty of $50,000, providing added financial protection in case of any unforeseen incidents related to the certificate. In contrast, Rapid SSL offers a warranty of $10,000, which is still substantial but relatively lower compared to Positive SSL.
Price and Affordability
Both of these certificates are known for their affordable prices. PositiveSSL cert begins at $5.45 per year, while Rapid SSL cert is available at a more affordable price, starting at $4.97 per year. These attractive pricing options make these certificates majorly used by website owners, such as individuals with personal websites, bloggers, startups, and small businesses.
Security Features and Encryption
Both Positive SSL and Rapid SSL ensure secure connections by employing robust encryption algorithms. They offer 256-bit industry-standard encryption strength and utilize the 2048-bit signature length along with the SHA-2 hashing algorithm. These advanced security measures guarantee that data transmitted between the website and its users remain confidential and protected from unauthorized access.
Ease of Installation and Validation
Obtaining and installing an SSL certificate should be a smooth process, and Positive SSL and Rapid SSL excel in this regard. They both offer quick and hassle-free issuance, allowing you to secure your website promptly. These certs are Domain Validation certificates, which means you only need to prove your domain ownership to acquire the certificate. This simplicity and convenience make Positive SSL and Rapid SSL popular choices for website owners.
Limitless Server License
Both certificates come with a valuable feature: the unlimited server license. This means you can install your SSL certificate on multiple servers without additional cost or restrictions. This flexibility is particularly beneficial if you have multiple websites or if you need to secure various servers within your organization.
Trust Indicators and Site Seals
SSL certificates provide trust indicators that assure visitors of your website's security. Both Positive and Rapid SSL certificates display similar trust indicators, such as the padlock icon and the HTTPS protocol in the browser's address bar. Additionally, they offer static site seals that you can prominently display on your website, further instilling confidence in your users.
Refund Period
Both of these DV certificates offer a 30 days refund policy. If you are not satisfied with your certificate or have a change of plans within thirty days from the purchase date, you can request a full refund, no questions asked. This refund policy demonstrates the confidence that the certificate providers have in their products.
Mobile Browser Compatibility
SSL certificates need to be compatible with a wide range of mobile browsers. Positive and Rapid SSL certificates meet this requirement, offering 99.9% compatibility with popular mobile browsers. This ensures that your website remains accessible and secure across various devices, including smartphones and tablets, enhancing the user experience for mobile users.
Domain Security
When it comes to domain security, both certificates provide support for solo domains, whether with or without the "www" prefix. By covering both domain variations, these certificates ensure that your website remains secure and accessible, regardless of how visitors access it. Whether they type the "www" prefix or directly enter your domain name, the SSL certificate will provide a secure connection and protect your website from potential threats.
PositiveSSL vs RapidSSL
| Certificate Provider | Sectigo (Comodo) CA | RapidSSL |
| --- | --- | --- |
| SSL Certificate | Comodo Positive SSL | RapidSSL Certificate |
| Encryption Algorithm | SHA 256-bit | SHA 256-bit |
| Cryptographic Key Length | 2048-Bit | 2048-Bit |
| Validation Level | Domain Validation (DV) | Domain Validation (DV) |
| Warranty | $50,000 | $10,000 |
| Price Range | Starting from $5.45/year | Starting from $4.97/year |
| Issuance Time | Within 15 minutes | Within 15 minutes |
| Server Licensing | Unlimited | Unlimited |
| Refund Period | Thirty days | Thirty days |
| Refund Amount | 100% | 100% |
| Mobile Browser Compatibility | 99.99% | 99.99% |
| Web Browser Compatibility | 99.99% | 99.99% |
| Domain Security | Single domain (with and without "www" prefix.) | Single domain (with and without "www" prefix.) |
| Reissuance | Unlimited | Unlimited |
Key Differences Between Comodo PositiveSSL vs RapidSSL
CA Provider
Comodo PositiveSSL is provided by Sectigo CA, while RapidSSL is provided by DigiCert CA.
Warranty Amount
Comodo PositiveSSL offers a warranty of $50,000, whereas RapidSSL offers a warranty of $10,000.
Price
Comodo PositiveSSL has a starting price of $5.45/year, while RapidSSL starts at $4.97/year.
Which Certificate Should You Choose?
After carefully examining the distinctions between Positive SSL and RapidSSL, you may ponder which certificate best fits your website. Ultimately, the decision hinges on your unique requirements and priorities. If a higher warranty amount and a certificate from Sectigo CA are of paramount importance to you, then Positive SSL is the ideal choice. It provides a full warranty and the assurance of a trusted CA.
However, if you are seeking a cost-effective solution that aligns with your budget while still ensuring reliability, RapidSSL is the certificate for you. It offers competitive pricing without compromising on the credibility of the CA. With RapidSSL, you can obtain a trusted certificate at an affordable price.
Conclusion
Choosing the perfect certificate for your website ultimately depends on your specific requirements. Evaluate the warranty coverage, pricing, and reputation of the CA to ensure that your website's security demands are adequately fulfilled. Opting for the right SSL certificate not only boosts the credibility of your website but also safeguards confidential information and offers a secure browsing environment for your site's visitors.