How to Fix SSL Errors on iPhones?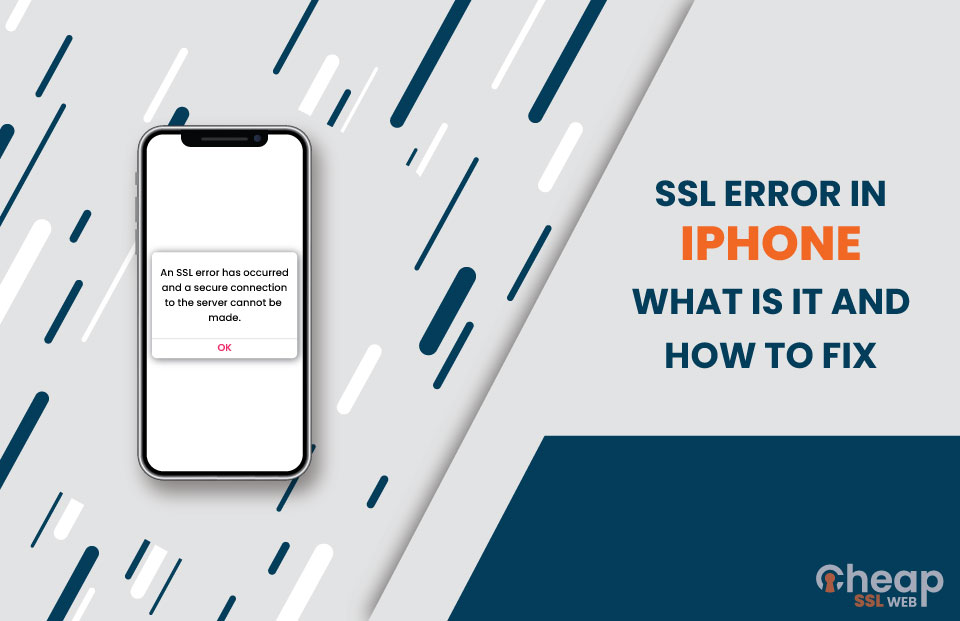 Buying, setting, and installing an SSL certificate for a site has always been challenging for a website owner. However, despite all the efforts they put into setting it up, their users might still end up having an SSL error on the iPhone or any other phone. Oftentimes the SSL error iPhone can drive you away from a website.
Understanding the root causes that pave the way for SSL errors to occur will help you get rid of them from a particular website. Moreover, you will also know the ways you can get rid of it when you run into one based on the error message you encounter. So let us first discuss what an SSL error on an iPhone is.
What is an SSL Error on an iPhone?
When it comes to SSL errors on an iPhone, they can be translated into different meanings. If your iPhone is showing an error message while you are trying to access a website, the security settings of your device are incorrectly configured. For example, if the 'Trust Center' needs to be set up correctly, it can result in SSL errors appearing.
Another possibility is that your browser encountered an issue with the SSL certificate that is being used by the website you are trying to reach. For example, the website you're trying to access still needs to update its SSL certificate to use the latest TLS version.
There could be many reasons why you are getting the error messages. Let us discuss that now.
What are the Causes of iPhone SSL Error Messages?
As already discussed above, SSL connection errors can be caused by a number of different issues. Let's go through them one-by-one.
Outdated SSL Certificates Used by the Website
If the website you are trying to access has an old or outdated SSL certificate, it will result in an error message as it has weak implementations and fails to establish an encrypted connection with the client-server.
Use of Self-Signed SSL Certificates by the Website
Often, website owners employ self-signed SSL certificates that are only recognized by some browsers. In these cases, you might encounter an SSL error message.
Outdated OS of the iPhone or Outdated App
There are times when your iPhone's operating system or the problematic application has become outdated. In cases like these, one's incompatibility with the other might not allow the network modules of the iPhone to communicate over the SSL protocol, thereby resulting in an SSL error.
Incorrect Data/Time of the iPhone
When the date and time of your iPhone need to be correctly set or match with the server, it will result in the response server failing to examine the SSL data packages that have incorrect dates or time stamps.
Corrupt Network Settings of the iPhone
You can encounter an SSL error message if the network settings of your iPhone are misconfigured. It happens because all the modules related to SSL on your phone might load poorly.
Router Security Products or Content Filters
Another reason why you encounter SSL errors is that the content filters or the security of the router are preventing the access of the iPhone to an appropriate online resource.
Now that we know the root causes let us learn how to fix SSL errors in the iPhone.
How to Fix SSL Errors on iPhone?
There are a few things that one can do to resolve an SSL error that has occurred and establish a secure connection. Let's see how:
Fix 1: Set Date and Time to 'Automatically'
As said above, you may come across an 'SSL error iPhone' issue if the data and time of your iPhone are not set correctly. To get rid of the message, all you have to do is set the Date & Time to 'Automatically.' By doing this, whenever you turn on your Internet connection, the date and time are adjusted on their own. Here are the steps to do it:
Step-1: After launching iPhone settings, tap on the General icon and go to the Date & Time option.
Step-2: Now, you can change the settings to the Set Automatically icon.
So if the SSL error message you are getting is because of the wrong date and time, this process will help you fix the issue you're facing.
Fix 2: Clearing Browser Cookies and Cache
In order to fix your SSL issues, you can clear the cookies and caches of your browser. By doing so, your device gets refreshed, which will probably help solve your issue. Here is a step-by-step process of how to do so:
Step-1: After visiting iPhone settings, tap on the General icon.
Step-2: Click the Safari icon and then go to Clear History and Website Data.
This will clear all your browser cache and cookies.
Fix 3: Update iOS
One of the primary reasons why you are facing an SSL error iPhone issue is using an obsolete iOS version. In order to make your iPhone work at its best, you must update your phone whenever a new update version comes. Below we have mentioned the steps you must follow to do so:
Step-1: After going to your iPhone settings, select the General icon.
Step-2: Install the new update after clicking on the Software Update icon.
If you see no new available update, the error might be somewhere else, and you have to look for other solutions.
Fix 4: Fix SSL Error on iPhone via Reset Network Settings
While resetting network settings will delete all the settings you have saved on your iPhone, it will fix various iOS device issues. Fortunately, resetting network settings will also help you get rid of the 'SSL error iPhone' problem. Here is how you can do it:
Step-1: Launch iPhone settings and go to the General icon.
Step-2: At this step, click on the Reset icon and then you have to select Reset network settings.
If resetting the network settings doesn't help with the SSL error, move on to the next fix.
Fix 5: Restart iPhone and WiFi Router
If none of those mentioned above fixes work for you, you can restart your WiFi router and your phone as well. Often, the issue takes place on the WiFi networks; thus, restarting the router may fix the SSL error.
Meanwhile, restarting your iPhone will help you solve many of your iOS device problems.
Fix 6: Reinstall the App that Shows the iPhone SSL Error
If you see a particular application on your iPhone showing an SSL certificate, you can uninstall it and install it again. This will help you eliminate all the problems that you are facing while accessing an application.
All you need to do is go to the Apple Store and select 'uninstall' after you find the app. Then, after removing the application from your iPhone, install it again by clicking on the 'install' icon.
Fix 7: Enable SSL on Both Incoming and Outgoing Servers
Now, you have tried everything, and nothing has worked. So the last resort is enabling an iPhone trust certificate on incoming and outgoing servers. Here is how you can do it:
For Incoming Servers:
Step-1: Go to Accounts & Passwords and select the account you want to secure with an SSL certificate.
Step-2: Enter your email credentials and click on Advanced. The next step is to go down the screen and then enable SSL.
For Outgoing Servers
Step-1: Go to 'Accounts & Passwords' and then click on the account you want to protect with SSL. The next step is to fill in the credentials of your Email and click on SMTP.
Step-2: Now turn on the Use SSL Sliderand then set 465 as your server port.
The fixes mentioned above are some of the ways to fix the error message when you are trying to connect to a particular website and simply cannot. However, if the error is from the server side, you can always get in touch with the website owners and get it fixed.
Get your Error Fixed
Having an SSL error iPhone is not uncommon. Many iPhone users have complained about the issue. If you, too, are facing the same, this blog can be your guide to fixing all the issues. We have done a lot of research and come up with these ways that will help you combat the error code message. Hope you find this useful and get access to your desired website or application.