How to Get SSL Certificates for Sub-domains?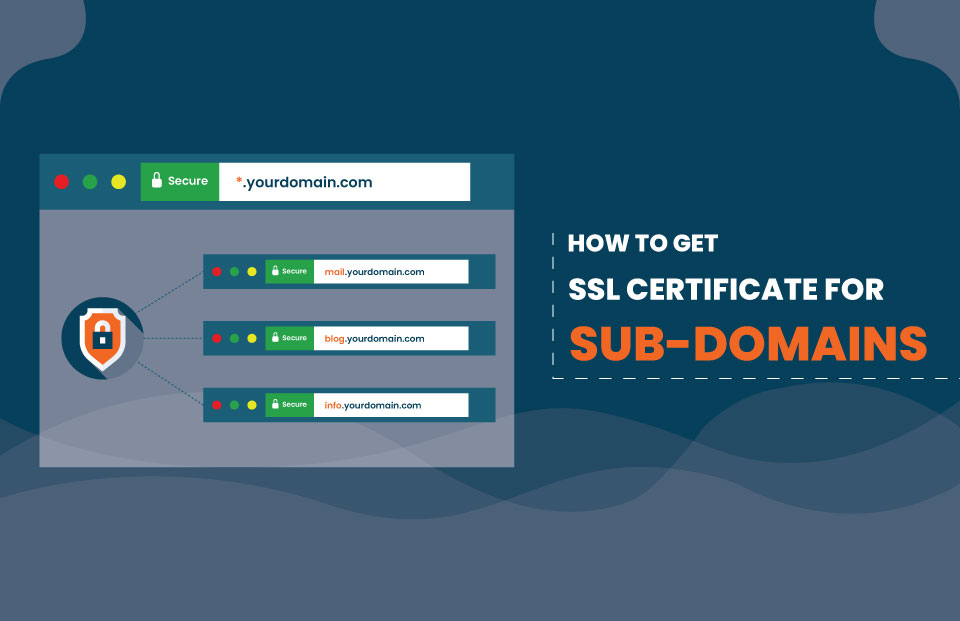 A Step-by-Step Guide on SSL Certificate for Subdomains
What could be the worst nightmare for any website owner? Yes, you guessed it right – the flagging 'Not Secure' notification popping up upon users opening their websites. These warnings instill a sense of insecurity and lack of trust among end-users, resulting in high attrition and bounce rates. This ultimately leads to low SEO ranking of websites. This is where SSL certificates for Subdomains enter the scene!
Did you know a website is as strong as its weakest subdomains? So, people who usually wonder whether securing a domain with SSL would secure its subdomains or not, you should! Actually, a basic SSL certificate can only cover one domain and buying such certificates for each and every domain and subdomain can be quite costly.
Any minute details related to subdomains, when not checked thoroughly while buying an SSL certificate, can be a waste of money, time, and, eventually, your credibility. So, to understand it in detail, let us understand the subdomain structure first.
What is the Structure of The Subdomain?
The subdomain structure involves the top-level domain (TLD), the base or main domain, and the first-level subdomain. One can get an idea about the subdomain structure by going left to the right based on the DNS hierarchy.
For example, let us consider a subdomain- blog.example.com
Here, .com is the TLD, the example is the base or main domain, and example.com is the second-level domain or root domain.
The blog.example.com is a subdomain or third-level domain. As a matter of fact, subdomains are also available on multiple levels. For example, websites can have first-level subdomains like shop.example.com, product.example.com, careers.example.com, or blog.example.com.
Examples of second-level subdomains can be
offers.products.example.com
info.blog.example.com
resources.careers.example.com, and
login.shop.example.com
A few examples of third-level subdomains can be
podcasts.resources.careers.example.com or
cart.login.shop.example.com.
The bottom line here is to understand that when you are employing an SSL certificate, you have to take care of other subdomains as well and use SSL for subdomain. Wondering why? Let us get that cleared.
Why Should You Secure all Subdomains with an SSL certificate?
When you purchase a single domain SSL certificate just for securing your primary domain, it will obviously not protect the subdomain accompanied by the website. Let us give you an example – a single domain SSL for shoppingsite.com will protect shoppingsite.com/items but not items.shoppingsite.com.
Therefore, just as you secure your primary domain, it is important to secure your subdomain(s) with an SSL certificate. If this doesn't motivate you, we have another solid reason why you should take it seriously. In 2014, Google announced that it would favor web pages that are 'encrypted.' So all websites that have HTTP in their URL will be shown as a 'not secure' mark in the address bar.
If you use an SSL certificate for just your primary domain, Google Chrome will not show the 'not secure' warning for the primary domain but will show it for all the subdomains, eventually resulting in a loss of credibility and reputation. So, users will flee those websites, and your website will be heavily impacted.
Moreover, if you have dedicated subdomains for product pages, contact forms, shopping carts, subscription pages, etc., that require your users to put their credentials or financial details, such subdomains demand to be encrypted and secured with HTTPS connection via a subdomain SSL certificate.
Now, we can safely say that securing your entire website with an SSL certificate (including your subdomains) is no longer a luxury but a necessity to keep your website secure and credible and gain users' confidence.
This brings us to our next question: "Can one secure their domain and subdomains with just one SSL certificate?" Let us find that out.
How Can I Secure your Domain and Subdomain with a Single SSL Certificate?
You can secure all of them with SSL for subdomains and don't have to go through all the hassle of buying separate SSL certificates for all your subdomains and going through the vetting, CSR generation, installation, and renewing each one of them separately.
With a single SSL certificate for subdomain, you can now secure your primary domain and unlimited subdomains. These certificates are regarded as 'Wildcard SSL certificates.'
Based on the needs of your business, there are two types of Wildcard SSL certificates available in organization validation (OV) and domain validation (DV) levels.
1. Wildcard SSL for Subdomain
At the convenience of a cheap Wildcard SSL certificate, one can secure one primary domain and multiple first-level subdomains of that particular domain.
For example, mywebsite.com is your primary domain. With an SSL certificate, you can secure admin.mywebsite.com, blog.mywebsite.com, www.mywebsite.com, etc.,
2. Multi-Domain Wildcard SSL for Multiple Domains and Their Subdomains
With a multi-domain Wildcard SSL certificate, one can secure multiple primary domains and unlimited first-level subdomains of these primary domains. Thus, while buying one, you have to check the number of Subject Alternative Names (SAN) included in the package.
SANs are basically the total number of primary domains and unlimited first-level subdomains covered under a particular SSL certificate. Typically, a multi-domain Wildcard certificate, by default, comes with 2 to 4 SANs and are capable of covering up to 250 domains under the same certificate. To get additional SANs, you will be charged per SAN.
Wildcard certificates are considered the key when you want to secure multiple subdomains. It is because they offer a lot of benefits. Let us discuss them.
What are the Benefits of Wildcard SSL Certificates?
A Wildcard SSL certificate can protect multiple sub-domains at one set cost. But that is not just it! We have more.
High Validation and Trust Value
When you buy a Wildcard SSL certificate from a reliable certificate authority, it means you get the assurance of the highest standards of validation and trust, which will obviously translate into peace of mind and security for not just you but your end-users as well.
Higher Sales Conversion
Trust paves the way for result-oriented consequences. Using an SSL certificate is an indication that you care for your customers and that they can trust your website with their confidential information.
99.9% Browser Compatibility
When one incorporates a tech stack or purchases a trusted certificate, one thing that always concerns them is compatibility. Buying an SSL certificate from a trustworthy provider will exhibit 99.9% compatibility with a wide range of browsers that includes Opera, Google Chrome, Microsoft Edge, Mozilla Firefox, Apple Safari, etc.
Unlimited Server License, Reissuances and Key Pairs
When bought from a good SSL provider like CheapSSLWeb, you can avail of their advanced user portal for efficient SSL management and get a smooth experience. Moreover, you can also get your re-issuance done from your account without any hassle. What else can you ask for?
Improves SEO Ranking
Search Engine Optimization (SEO) ranking is the key to driving more traffic. With an efficient SSL certificate, you can ensure a higher-ranking website, which leads to enhanced conversion and ultimately improves your sales.
Now that we know what certificates you need and why you must use them, let us consider the factors you must consider while buying SSL certificates for subdomains.
What Factors Should You Consider While Choosing SSL Certificates for Subdomains?
Buying SSL is not enough; buying it from a reliable vendor, considering its features, and checking the level of validation it offers are some of the things that need your careful analysis. Check out these factors that you must consider while purchasing one.
A Reliable Certificate Authority (CA)
Your chosen SSL certificate providers or Certificate Authority must be reliable and reputable such as COMODO SSL CA, Sectigo SSL CA, as there is a rise in insecure and unreliable CAs. Also, while choosing your CA, make sure you check the total cost (that includes renewals, re-issuances, maintenance, etc.), support, extra security features, etc. This will help you make an informed decision.
Subdomains and Their Levels
In case you have different subdomain levels, choosing a multi-domain SSL certificate is important. On the other hand, if you own a single primary domain and multiple subdomains (of the same level), go for Wildcard SSL certificates.
Level of Validation
You can opt for DV (Domain Validation) or OV (Organization Validation), depending on the validation level and assurance you wish to have for your website. For example, an OV multi-domain SSL certificate is ideal for dynamic websites like E-Commerce or any site requiring organizational information. However, if you have a static site where you just run simple blogs, DV SSL certificates are the best.
Whether or Not to Choose a Multi-Server SSL?
As multi-server SSL certificates for subdomains facilitate duplication of encryption-decryption keys, it is best not to use them; otherwise, it exposes your website to third-party attacks.
Certificate Management Features
Go for a subdomain SSL certificate from an SSL provider that provides hassle-free and robust Certificate Management Systems (CMS). The CMS should offer dull assurance of visibility, the convenience of application, and real-time insights.
These are everything you must know while buying SSL certificates for subdomains.
Top Subdomain SSL Certificates from The Best SSL Brands
Win your Users' Trust with Wildcard SSL!
Thanks to the large-scale application of subdomains, purchasing SSL certificates is inevitable. You sure would want to protect your website pages, offer amazing page experiences, and boost SEO rankings and for that, making the right choice is important. We hope the article gave you sufficient information to arrive at a wise decision.