What is an Exchange SSL Certificate for Microsoft Servers?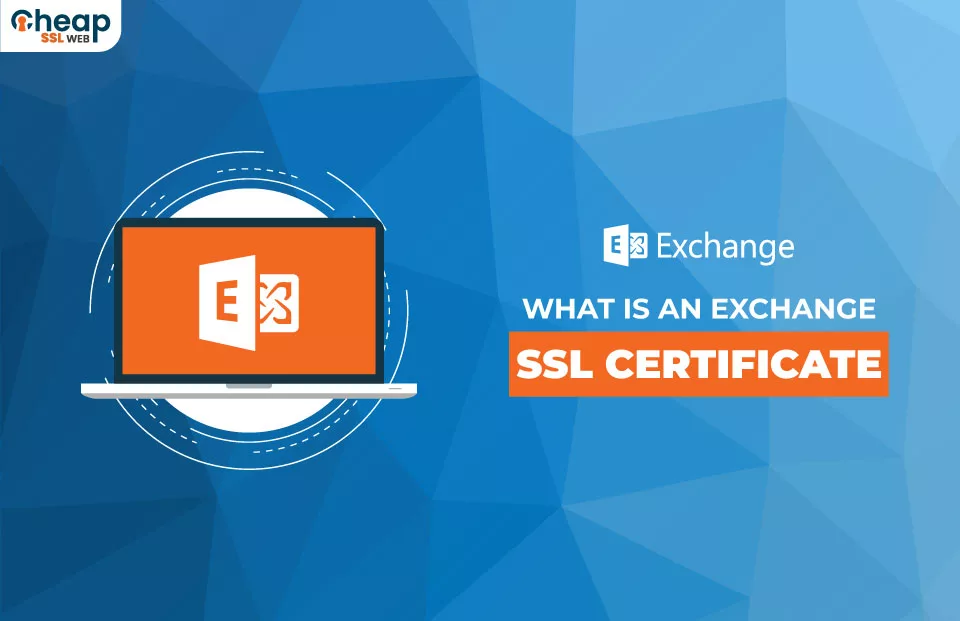 A Comprehensive Guide on Exchange SSL Certificate and How to Install it on Microsoft Exchange Servers
The benefits of an Exchange SSL certificate extend beyond security; it also enhances trust, credibility, and compliance with data protection regulations. By implementing your SSL Certificate Exchange, you can safeguard your business and your client's information, ensuring that your business remains protected in today's ever-changing digital world.
So let's discuss everything about the Exchange SSL certificate.
What is Microsoft Exchange Server?
Microsoft Exchange Server is a popular email and collaboration platform developed by Microsoft. It provides a range of features, including email, calendar, contacts, and tasks, that allow users to communicate and collaborate efficiently. Exchange Server is designed to work with Microsoft Outlook, a popular email client, but it also supports other email clients such as Mozilla Thunderbird and Apple Mail.
Exchange Server is widely used by businesses worldwide as it provides a reliable and secure platform for managing email and other communication and collaboration tools. It can be hosted on-premises or in the cloud, providing flexibility for businesses of all sizes.
In simple words, it's the software application that communicates with the remote server over the internet, and thus we will study its security with reference to SSL certificates.
Why Is it Important to Have an SSL Certificate for Exchange Server?
Microsoft Exchange is one of the leading email hosting service providers worldwide. Moreover, it entered into the industry quite early, which is why a significant portion of the world's email communication passes through its servers. Having said that, email communication often involves sensitive information. The transmission of this information between servers carries a risk of data interception and tampering, known as man-in-the-middle (MiTM) attacks. Thus, it's essential to protect data in transit by implementing an Exchange security certificate.
An Exchange security certificate, also known as an SSL (Secure Sockets Layer) certificate, is a digital certificate that encrypts data-in-transit between the Exchange server and email clients, protecting sensitive information from interception and unauthorized access. SSL certificates are so critical for Exchange Server security that Microsoft has mandated the use of SSL certificates on Exchange web servers since Exchange Server 2007.
So which is the best SSL certificate for Exchange Server? Let's find out.
Read Also: What is UCC SSL and How It Works for Microsoft Exchange Server?
Which SSL Certificate Do I Need for Microsoft Exchange Servers?
For any business, email communications are a vital part. But, the threat of man-in-the-middle attacks cannot be overlooked as they can intercept and tamper with the sensitive information of Internet users. When researching SSL certificates, it's easy to become overwhelmed by the number of options available. However, with Exchange Servers like 2007, 2010, 2013, 2016, 2019, there's only one type of Exchange Server SSL certificate tailor-made for exchange server environments: the Unified Communication Certificate or UCC SSL Certificate.
Strong 256-bit Encryption: UCC uses strong SHA-256-bit encryption, protecting multiple domains and subdomains associated with a particular web hosting account.
Seamless Integration with Microsoft's Services: One of the key benefits of using UCC or SAN SSL certificates with exchange servers is their seamless compatibility with Microsoft's services. This means that they work effortlessly with webmail, Outlook Web Access/App (OWA), Autodiscover, and other Microsoft services. This makes it easy for users to access their email and other information securely, regardless of the device or location they are using.
100% Compatibility for all Microsoft Exchange Versions: UCC certificate holds 100% support for all the versions of Microsoft Exchange servers such as Exchange 2007, 2010, 2013, 2016, and 2019.
Allows Multiple Host Services: Another advantage of UCC/SAN certificates is that they allow you to secure multiple host services offered by Microsoft, including Exchange, SharePoint, and Lync. This means that you don't need to purchase a separate certificate for each service, which can be expensive and time-consuming.
So these are the benefits of using UCC SSL as an Exchange Web Certificate.
How to install an SSL Certificate on Microsoft Exchange Server?
The first step of getting an SSL certificate in Microsoft Exchange is to get an SSL certificate from a reputable Certificate Authorities like Comodo CA, Sectigo CA, and Certera CA.
Now let's begin with the installation.
Step 1: Add Snap-ins in Microsoft Management Console (MMC)
Open the Start menu and type MMC.
Click on File in the top menu, then click on Add/Remove Snap-ins.
Choose Certificates from Available snap-ins, select a specific computer account and click Finish.
Click on OK.
Step 2: Install an Intermediate SSL Certificate
Open the Start menu and type MMC.
In the left pane, expand Certificate under the Console Root folder.
Right-click on Intermediate Certificate, then go to All Tasks and then to Import.
Select your intermediate Certificate file, verify your certificate, and click on Finish.
Click on OK and save the Console, then close MMC.
Step 3: Install the SSL Certificate File
Open the Start menu and go to All Programs > Microsoft Exchange Server 2010 > Exchange Management Console.
Go to Microsoft Exchange On-Premises > Manage Databases, then click on Server configuration.
From the Exchange Certificates window, select your SSL Certificate.
Click on Complete Pending Request in the Actions panel.
Find the SSL certificate file and select it.
Press Complete > Finish.
Choose your SSL certificate in the Exchange Management Console.
Assign services to the certificate from the Actions menu in the right-hand corner.
Select the Server to assign services and press Next.
Choose the services to assign to your certificate, then click on Assign and Finish.
Congratulations, you have successfully installed an Exchange SSL server certificate!
Concluding Lines
An Exchange SSL certificate establishes secure communication between servers in a Microsoft Exchange environment by encrypting data transmitted between servers, thereby preventing unauthorized access to sensitive information. With an Exchange SSL certificate in place, you provide that assurance to your users that your sensitive information is protected and your server communication is secure.