What is UCC SSL and How It Works for Microsoft Exchange Server?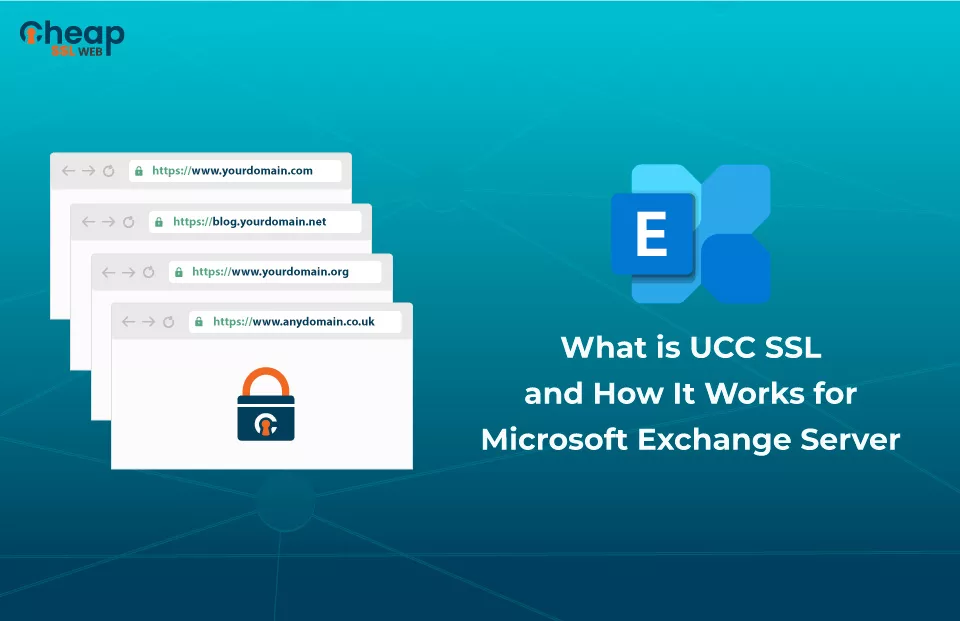 Understanding the UCC SSL Certificate and its Benefits for Securing Microsoft Exchange Server
Want to secure Microsoft Exchange and Office Communications servers but don't know which SSL certificate to choose? Don't worry; we are here to help you if you are confused or unsure about the answer to this query. You can select the UCC SSL Certificate. In this article, we will discuss the same certificate in great depth.
What is a UCC SSL Certificate?
UCC SSL certificate is a security certificate that protects multiple fully qualified domains (FQDN) under single SSL management. In lay terms, the UCC SSL certificate secures numerous domains and featured subdomains under a single certificate on a single IP.
The first domain listed on the certificate is considered the "Primary" or "Base" domain, and additional domains are listed as Subject Alternative Names (SANs). Depending on the Certificate Authority (CA), a user can secure 25 to 250 domains with a UCC SSL certificate.
Some CAs also offer a Multi-Domain Wildcard SSL certificate feature, with a UCC SSL certificate, which can validate the business, secure multiple websites, and protect numerous domains while protecting unlimited sub-domains at a single level of the URL.
UCC SSL certificate is also referred to using multiple names, such as:
Unified Communication SSL Certificate
Microsoft Exchange SSL certificate
How Does a UCC SSL Certificate Work for Top TLD Domains?
If the site uses a UCC SSL certificate, the base or the primary domain is listed under the CNAME (common name) field, and the additional domains are listed as SANS. It becomes useless to consider, or it doesn't even matter – whether the domain is a TLD (Top-level domain), such as ".com," or a subdomain, such as "UCC.example.com," – the working of the UCC SSL certificate won't differ or change.
You must retain one thing while requesting a UCC SSL certificate to be issued: to include all the domain names you want to secure.
Note: Adding or modifying the SANs is easy and can be quickly done but remember that the common name (CNAME) cannot be edited.
Why is a UCC SSL Certificate Ideal for Microsoft Exchange Server?
A UCC SSL certificate is ideal for Microsoft Exchange Server because of "n" number of reasons. One of the most crucial reasons is that, being a multi-domain SSL certificate, it encrypts the communication between Exchange Server and clients accessing the server from various domains or subdomains. Thus, eliminating the need for multiple SSL certificates for different Exchange Server services.
The UCC SSL certificate is designed specifically to support Microsoft Exchange Server's unique requirements for secure communication. It can secure the following domains and subdomains:
The fully qualified domain name of the Exchange Server
The Autodiscover service
Any extra domain or subdomain names required for Outlook Web App (OWA), Exchange ActiveSync, Outlook Anywhere, or any other exchange services.
Apart from above mentioned points, it is also one of the ideal choices for a Microsoft Exchange Server as using a single certificate rather than using different SSL certificates for securing various exchange services simplifies certificate management, reduces costs, and ensures the highest level of security for Exchange Server communications. (We will cover all these points in detail, in the next section of the article.)
Why Does Enterprise Business Need UCC SSL?
There are "n" number of reasons why most enterprises prefer UCC SSL certificates over other SSL certifications. Let's explore some of the most prominent reasons:
Cost-effectiveness: Enterprise businesses often have multiple domain names and subdomains that need to be secured. Purchasing an SSL certificate can be quite costly to protect each one of them; hence, using a UCC SSL certificate seems more appropriate.
Simplified certificate management: Using this single certificate is a good choice rather than using a different SSL certificate to secure each domain and subdomain available in an enterprise business because a UCC SSL certificate can be installed on as many servers as you need. Thus decreasing the workload of IT administrators managing numerous SSL certificates.
Enhanced security: Each domain or subdomain covered under the same UCC SSL certificate received the same level of protection. They use the same public and private keys to encrypt and decrypt the data and use the SHA-2 encryption algorithm.
Features of Standard UCC SSL Certificate
Here are some of the top features of the UCC SSL Certificate:
Compatible with 99% of browsers.
Free reissues of the certificate if necessary.
Capability to secure both www and non-www domains.
Increases flexibility by providing unlimited server licenses.
Enhances satisfaction by providing a money-back guarantee (30 days).
Uses 256-bit encryption with a 2048-bit RSA key signature for more robust security.
Compatibility with Microsoft Exchange and Office Communication servers.
Recommended: What is 256-bit Encryption and Is It Safe to Use
Top UCC SSL Certificate of 2023
Here are some of the top UCC SSL Certificates that you can purchase in 2023, along with other details: