Cheap Wildcard SSL Certificate Providers 2023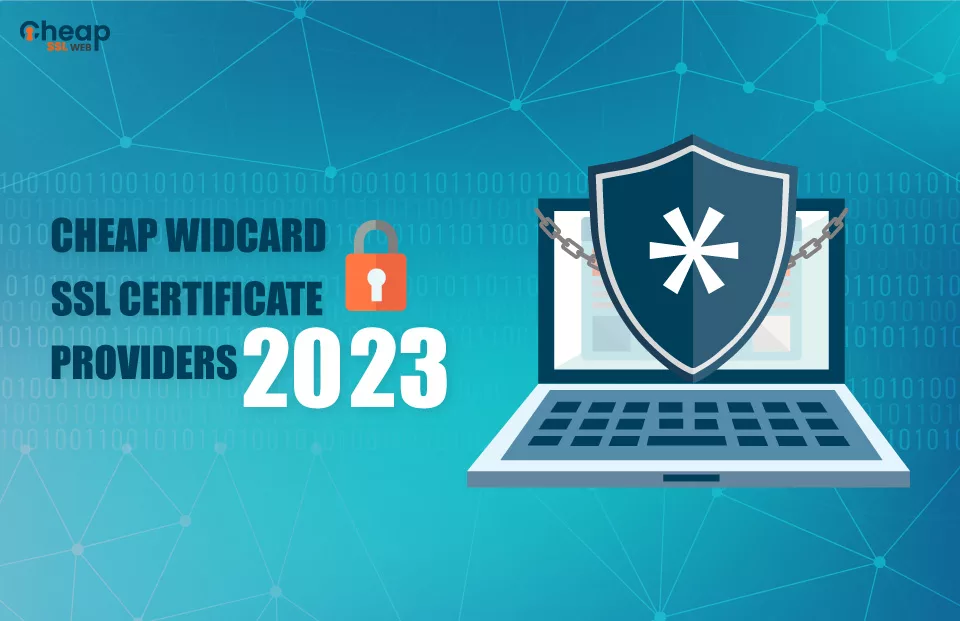 As you are here and reading this article, it can simply mean one thing: "You are sure that you need a Wildcard SSL Certificate but don't know with which Certificate Authority to go." If that's the case – don't fret! In this article, you will get complete knowledge about each CA that offers a wildcard cert and a detailed tabular comparison among them.
But before we start exploring different CAs, it would be better first to comprehend the answers to some of the most asked queries related to Wildcards, such as:
What is a Wildcard SSL Certificate?
Is Wildcard Certificate Free?
Why are Wildcard SSL Certs So Expensive?
How Much Does a Wildcard SSL Certificate Cost?
What is a Wildcard SSL Certificate?
A Wildcard is a special type of SSL certificate that is able to secure the primary domain along with an unlimited number of its associated sub-domains. The certificate uses a wildcard character – (*) asterisk symbol that represents the subdomain part of the domain name.
Instead of using multiple SSL certificates, companies and businesses can utilize this single cert to shield their complete online presence without making a hole in the pocket or having to bear the trouble of managing multiple certs.
Is Wildcard Certificate Free?
Certificate Authority Let's Encrypt issues a free wildcard certificate that uses the ISRG root. These types of certs are only valid for up to 90 days, after which time you have to renew the certificate again. Before planning to buy these SSL certificates, remember that they:
Do not offer any warranty.
Don't come with any direct customer support or a trust seal.
Why are Wildcard SSL Certificates Expensive?
A Wildcard SSL can secure a domain along with all its associated subdomains; this makes it expensive compared to any other SSL certificates out there in the market. Let me explain using an example – Suppose you have a website (wildcardssl.com), then using such a certificate, you can secure the following:
topten.wildcardssl.com
providers.wildcardssl.com, etc.
How Much Does a Wildcard SSL Certificate Cost?
The cost of a Wildcard SSL Certificate varies depending on the CA and the validation level. Cheapsslweb sells the cheapest DV and OV Wildcard SSL that costs around $19.99/yr and $80.00/yr, respectively.
Top Cheap Wildcard Certificate Providers in 2023
After a thorough analysis by our experts, we have prepared a list of the top nine wildcard certificate providers in 2023, and here's that list:
DigiCert Wildcard SSL
Certera Wildcard SSL
Sectigo Wildcard SSL
Comodo Wildcard SSL
Comodo PositiveSSL Wildcard
InstantSSL Wildcard SSL
GeoTrust Wildcard SSL
Thawte Wildcard SSL
RapidSSL Wildcard
Let's examine each of them in detail.
DigiCert Wildcard SSL
Choose DigiCert for your Organization-Validated Wildcard SSL needs and tap into their strong reputation for digital security and infrastructure. DigiCert Certificate Authority, known for its – robust encryption and excellent customer service that's available 24*7, shields your website along with all its sub-domains.

All the DigiCert Wildcard certs meet or exceed all NIST and CAB Forum standards, and the root is universally trusted. The cost of a Digicert OV wildcard SSL Certificate is $289.00/yr.

Some of the notable features of the wildcard issued by DigiCert provider are mentioned below:
$1,000,000 Warranty
DigiCert Secure Trust Seal
Unlimited Server Licenses
Secures both www and non-www domains
Compatible with all major browsers and mobile devices
Certera Wildcard SSL
Certera is one of the leading certificate providers that offer Domain-Validated (DV) Wildcard SSL at a great competitive price. The wildcard from this provider comes with secure padlock and HTTPS URLs; visible trust indicators can be seen on the main domains and all of its associated sub-domains, thereby boosting users' trust and confidence. Wildcard SSL certificate from Certera is available for $19.99/yr.
Some of the eminent features of the wildcard issued by Certera CA are mentioned below:
$10,000 Warranty
SHA 256-Bit
Issuance in Minutes
HTTPS + Certera Site Seal + Padlock
2048-bit Signature
99.99% Web & Browser Compatibility
Unlimited Server Licensing
30-Day Moneyback Guarantee
Expert Support: 24×7
Sectigo Wildcard SSL
Choose Sectigo as your DV or OV Wildcard SSL provider if you want both – affordability and strong security. When you go for Sectigo's Wildcard SSL certificate, you get a solution that covers your main website and all its first-level sub-domains on a single certificate. Sectigo's cheapest DV and OV SSL wildcards are available for $449 and $799, respectively.
Some of the renowned features of the wildcards issued by this provider are mentioned below:
Free 24* 7 Expert Support
Unlimited Server Licenses
30-Day Money Back Guarantee
Compatible with all leading web and mobile browsers
$500,000 (DV) – $1,000,000 (OV) Warranty
Sectigo Trust Seal
Comodo Wildcard SSL
The SSL Wildcard certificates from Comodo CA, feature fast online issuance; therefore, they can be issued within minutes of your purchase. If you want to add more sub-websites, they're automatically protected with the same certificate. No extra money is needed – just copy the certificate to the new subsite, and you're good to go. The Wildcard SSL issued by Comodo CA is available for $449 and $799 for DV and OV, respectively.
Some of the notable features of the wildcard issued by Comodo provider are mentioned below:
$250,000 Warranty
Domain Validated SSL
Up to 256-bit encryption
Unlimited re-issuance policy
24*7 Expert Support Available
Secure both domain.com + www.domain.com
Comodo PositiveSSL Wildcard
For small businesses looking to secure both their main website and sub-websites without spending too much, the Positive SSL Wildcard is a standout option. It offers pocket-friendly wildcard SSL certificates priced at $249 and $449 for DV and OV certs. It works smoothly with 99.99% web and mobile, offering CSR Encryption – 2048 Bit.
Some of the renowned features of the wildcard are mentioned below:
Free Site Seal
SHA-2 Security
Domain Validated
$50,000 Warranty
SSL Encryption – 256 Bit
Unlimited Server Licenses and Re-issuances
InstantSSL Wildcard SSL
Sectigo CA powers InstantSSL and is perfect for those who want a quick and simple Wildcard SSL fix. The wildcard SSL certificates offered by InstantSSL comes with both type of validation – DV and OV, and each cert includes unlimited server licensing so that you can protect all your physical servers. The Wildcard SSL from this provider starts at $449/yr.
Some of the renowned features of the wildcards issued by this provider are mentioned below:
Free Site Seal
SHA-2 Algorithm
$250,000 Warranty
Google Ranking Booster
2048-bit CSR Encryption
Endless Subdomains' Security
99.9% Web and Browser Compatibility
GeoTrust Wildcard SSL
Another well-known Wildcard SSL provider Geotrust, is now backed by DigiCert and is a leader in keeping websites safe. GeoTrust Quick SSL Premium Wildcard gets verified automatically and issued quickly. It can also secure sub-sites on one certificate, covering www and non-www sites with solid encryption. The approximate price of Geotrust Wildcard SSL is $417/yr.
Some of the eminent features of the wildcard issued by the GeoTrust provider are mentioned below:
SAN Support
Free Site Seal
SHA-2 Security
Domain Validation
$500,000 Warranty
Issued within minutes
Unlimited Server Licenses
Thawte Wildcard SSL
Thawte is a well-known global authority that is trusted by millions worldwide and offers online security solutions (DV and OV SSL certificates). With strong support, secure authentication ( 256-bit encryption) methods, free site seal, and simple online management, Thawte stands out as a top choice for Wildcard SSL certificates. The price of this Wildcard certificate is approximately $289.00/yr.
Here are some of the notable features of the Thawte Wildcard SSL:
SAN Support
$500,000 Warranty
Free Dynamic Site Seal
Unlimited Re-issuances
24*7 Customer Support
99% Mobile & Web Browser Compatibility
RapidSSL Wildcard
The wildcard certificates from RapidSSL provider are the best for small and medium-sized businesses with a limited budget. RapidSSL can quickly issue RapidSSL Wildcard Certificates which come with the security of 256-bit SSL encryption and 2048-bit CSR encryption. The cost of a wildcard certificate issued by this provider is 129.61/yr.
Some of the renowned features of the wildcards issued by this provider are mentioned below:
Issued within 5-10 Minutes
Free Site Seal
Unlimited Re-issuances
99.9% Browser Compatibility
$10,000 Warranty
Top Re-Sellers to Purchase Wildcard SSL From
CheapSSLWeb: If you want Wildcard SSL certificate's security, and that too at the cheapest rate possible (in comparison to all the CA or re-sellers present out there), without breaking the bank – CheapSSLWeb is for you. Along with being the cheapest, they make sure that there is no compromise in terms of security or customer support.
SSL2Buy: SSL2Buy makes getting SSL easy and affordable. They have many choices, from which you can pick the one that suits your requirements. Their process is simple, which is excellent for individuals and businesses.
CheapSSLSecurity: When it comes to security that's both good and doesn't cost a lot, go to CheapSSLSecurity. They focus on value and dependability. They ensure you're happy with quick support and easy buying, so your website's safety journey is smooth and doesn't hurt your wallet.
Tabular Comparison
Conclusion
In this article, we have explored the top nine Wildcard SSL providers and the top 3 re-sellers that you should consider before finalizing your decision.

To make an informed decision, you can compare what different Wildcard SSL providers and re-sellers offer, like what they do, how much they cost, and what's good about them, by which you would be able to choose the best Wildcard SSL provider for your business.