How to Renew COMODO SSL Certificate?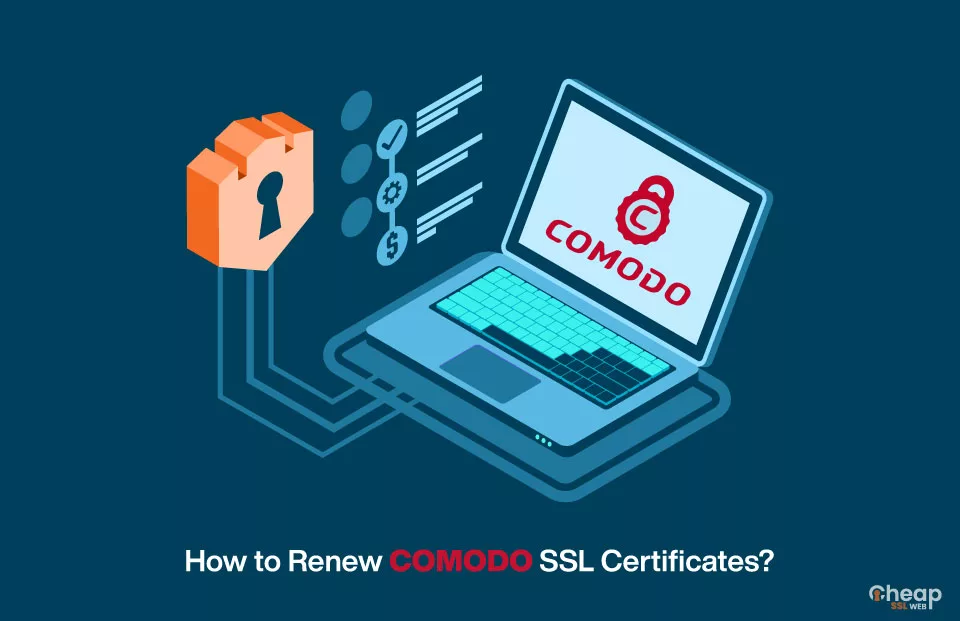 Security is an indispensable asset and a requirement for every website owner. No matter if it is an eCommerce website, a blogging website, or any other type of website, security is paramount, and SSL certificates are the best way to ensure it. SSL certificates secure a website and encrypt the conversations carried on it. However, SSL certificates have a shorter lifespan. They are active only for a maximum of 2 years. Therefore, they need timely renewal.
When it comes to renewal of the SSL certificate, it is not possible to auto-renew them. You have to renew them manually, and here in this comprehensive article, we will discuss how to renew COMODO SSL. One thing to note here is that no matter which CA's SSL certificate it is, the renewal process is always manual and remains the same.
SSL certificates are necessary to ensure website security, and they do have an expiration date. Hence, it is crucial to renew them while there is still time. Here is how you can do that!
Why do you need to Renew COMODO SSL Certificates?
It is super critical to renew COMODO SSL certificates, and there are numerous reasons for that. Let's take a look at some of these reasons!
To Maintain Trust and Reputation
An SSL certificate is super critical to maintaining trust and reputation in the eyes of your users. Why? For example, let's say you have an eCommerce website, what would you do if you saw an error popping up saying, "this site is insecure."
You would surely refrain from buying anything from that website, right? This is completely natural, as no one would like to buy from an insecure website.
If you do not renew COMODO SSL certificate, your site may give the same message to the visitors, which will directly impact your sales and revenue and, consequently, your reputation online.
To Shield from Cyber Attacks
As per stats, the most common type of online attack is credential theft. Around 30% of online attacks are credential theft, as per a report. On top of that, 95% of the traffic on Google is encrypted, which ensures secure data exchanges. This clearly proves that SSL certificates are an essential component to ensure data security online, especially if you have any site that deals with sensitive user information. Users' financial data is always secure with an SSL certificate installed on the website.
To Keep Up With the Encryption Techniques
Just like cybercriminals keep updating the methods to hack into user systems and steal data, the white hat geniuses also keep on improving the encryption techniques from time to time. As encryption techniques keep on updating with time, the SSL certificate needs to be renewed too.
All these reasons support the fact that you need to renew COMODO SSL certificates on a periodic basis.
Can a COMODO SSL Certificate be Auto-renewed?
No, the COMODO SSL certificate or any other SSL certificate cannot be auto-renewed. There are many reasons behind it.
If you stop using the website, auto-renewal will cost you money for nothing.
If your domain gets assigned to another owner, there will be issues in entity verification if the website SSL certificate gets auto-renewed.
As listed above, if your website SSL certificate gets auto-renewed and it follows the older encryption method, the data will be at risk.
All these are the reasons why the SSL certificates are not set to auto-renew themselves. Moreover, many of you might be wondering when is the best time to renew COMODO SSL certificate. So, if the expiration date of an SSL certificate is near, it is best to renew it 30 days before the expiration date. This needs to be done beforehand so that the verification process for renewing the SSL certificate is complete on time.
How to Renew COMODO SSL Certificates?
The process to renew the COMODO SSL certificate is pretty simple. However, you need to ensure that every step is implemented carefully.
1. Purchase the Certificate
The very first step to renewing the COMODO SSL certificate is to purchase It. So, no matter if the expiration date has passed or it is still on the way, you can go to the official website of COMODO and purchase the certificate in the first place.
To make it easy for you, COMODO and every other SSL certificate supplier send you a mail to renew the certificate before the expiration date.
You can simply open the mail and click on the renew button. You will be directed to the renewal page of the CA. Here, you can select the certificate that you want to renew and pay for the same.
If you are an eCommerce business, it is ideal to get an extended validation SSL certificate. The EV SSL certificate comes with numerous benefits, such as a site seal, comprehensive verification, and a private key stored in an external drive.
For affordable rates of COMODO SSL certificate, you can renew it from cheapsslweb.com.
2. Complete the CSR generation
Once the SSL certificate has been purchased from the vendor, it is time for you to complete the CSR generation process. Some suggest that CSR generation is not required if you are renewing the certificate from the same certificate authority.
However, it is necessary to generate a new CSR with CSR Generator tool, especially in the case of an EV SSL certificate. A new CSR provides you with a fresh set of keys for ultimate security.
When is CSR generation process is complete, it is time to get the SSL validation done. Let's learn about that in the next step.
3. Complete the SSL Validation
The SSL validation process is the same as the one that you undergo when you purchase the SSL certificate for the first time. There's a slight difference based on the type of certificate you renew. If you get a DV SSL certificate, the validation process will just take a few minutes as they just verify the website domain.
On the other hand, if you are renewing the organization-validated or extended validation certificate, the certificate authority will check the organization's details by referring to the records and documents that prove its ownership and existence. The process may take one to five days to complete.
4. Install the certificate
The final step in the process of how to renew COMODO SSL certificate is installing the certificate. After the validation process is complete, the SSL certificate is sent to your mail. You need to download the SSL certificate in the form of a PFX file. This PFX file contains a public and private key that is required for installation.
Once the SSL certificate is renewed and installed on the server, all the communication and user data will be secure.
Where to Renew COMODO SSL Certificates?
The best way to renew COMODO SSL certificate is by going to their website. However, if you want an affordable deal on renewing the certificate, you can visit cheapsslweb.com. You can get almost all types of SSL certificates from the website at an affordable price.
Note: There is a benefit if you renew COMODO SSL certificate before the expiry date. The benefit is to get some extra validation time based on the fact that how quickly you renew the certificate. The table shows the same!
| Renewal Bonus Options | Validity Bonus |
| --- | --- |
| Before 1-15 days Before Expiry | 30 days |
| Before 15-45 days Before Expiry | 60 days |
| Before 45-90 days Before Expiry | 90 days |
| After 1-15 days of Expiry | 30 days |
Conclusion
The SSL certificate is an essential need for every website owner, and so is renewing it at the right time. To ensure that your website stays secure and user data is encrypted during transfer, you renew COMODO SSL certificate. It is not just about COMODO; your SSL certificate, no matter the brand, needs to be renewed on time.
Cheapsslweb.com is a place where you can get all sorts of SSL certificates. After this, all you need to do is click on renew and receive the certificate in your email.