Where to Buy Wildcard SSL Certificate in 2023?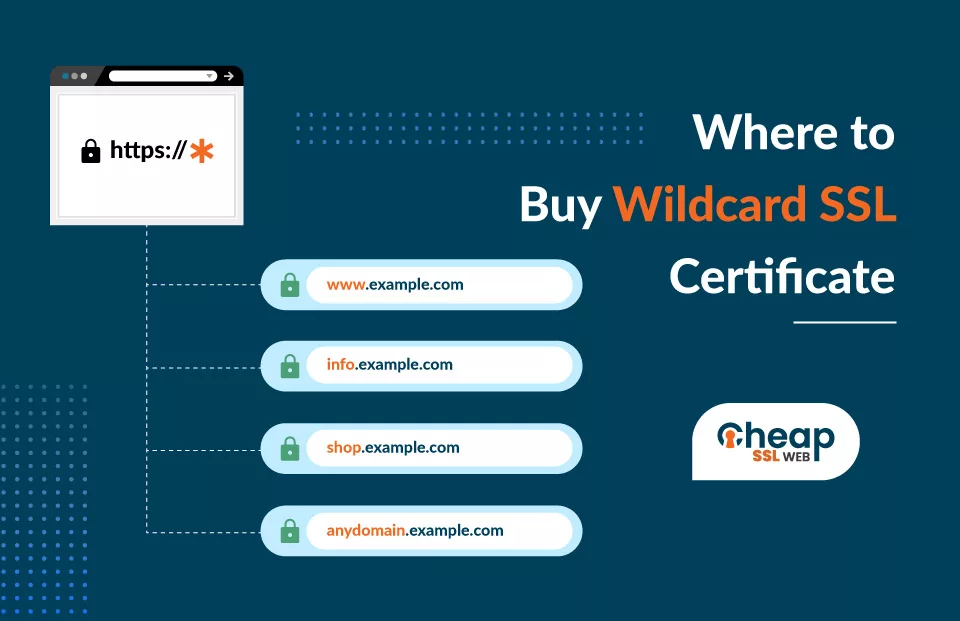 The Best Place to Purchase Wildcard SSL Certificates
When managing a website with multiple subdomains, the conventional approach requires obtaining individual SSL certificates for each subdomain. This method can be burdensome, consuming valuable time and incurring significant expenses. However, a more efficient and cost-effective solution exists – Wildcard SSL certificates.
What is a Wildcard SSL Certificate?
A Wildcard Certificate is a unique type of SSL certificate that allows you to secure "n" number of sub-domains associated with the primary domain. Wildcard certificates use a wildcard character (asterisk (*) symbol) in the certificate's common name (CNAME) field or FQDN (Fully Qualified Domain Name) while creating a CSR request. This character acts as a placeholder, allowing the certificate to cover any subdomain under the specified domain name.
For example, a wildcard certificate for *.yourprimarywebsite.com could be used for www.yourprimarywebsite.com, best.yourprimarywebsite.com, trending.yourprimarywebsite.com, in addition to any additional subdomain name in the yourprimarywebsite.com.
You have two options to acquire a wildcard SSL certificate: either by completing domain validation or organization validation. However, the Extended Validation (EV) option does not apply to wildcard certificates.
Advantages of a Wildcard Certificate
Unlimited Encryption
A Wildcard SSL certificate ensures unlimited encryption for an entire network of subdomains, protecting them with robust 256-bit encryption.
Cost Efficiency
Wildcard SSL certificates are budget-friendly, starting from just $19.99. They offer cost-effective security by covering multiple subdomains with a single certificate, eliminating the need for separate SSL certificates.
Full Refund
Your satisfaction is guaranteed with a Wildcard SSL certificate. If you're not completely satisfied within the first 30 days, you can request a full refund, providing peace of mind and a risk-free experience.
Multiple Validation Levels
Wildcard SSL certificates are available in both DV and OV. This flexibility allows you to choose the appropriate level of validation for different types of subdomains.
Seamless Implementation:
Trusted SSL brands like COMODO CA, SECTIGO CA, and Certera offer domain-validated Wildcard SSL certificates that can be quickly issued (within ten minutes) and are easy to install – no more waiting or complex procedures.
Enhanced User Trust
Wildcard SSL certificates come with a trust seal, visually indicating that the website has undergone thorough validation. This instills confidence in users, assuring them that their information is secure.
Disadvantages of Wildcard certificate
Limited Domain Scope
Wildcard SSL certificates are restricted to a single domain and its subdomains. They cannot be used to secure multiple domains. If you have multiple distinct domains that require SSL protection, you will need separate SSL certificates for each or use a Multi-Domain Wildcard SSL Certificate.
Compromise Risks
In the unfortunate event of a Wildcard SSL certificate being compromised, all subdomains protected by the certificate are potentially at risk. Unlike individual SSL certificates, where the impact of a breach is limited to a single subdomain, a compromised Wildcard SSL certificate could affect the security of all subdomains, leading to significant consequences. Know the risks associated with Wildcard SSL Certificate.
Verification Concerns
Wildcard SSL certificates typically undergo less stringent verification compared to Extended Validation (EV) certificates. While DV and OV validation levels are available, the absence of extended verification may raise concerns in specific contexts where strict validation is required.
Best Wildcard SSL Certificates to Buy in 2023
Main Domain + 2 FREE SANs: With this certificate, you can secure your main domain along with two additional Subject Alternative Names (SANs).
Issuance in Minutes: It is a DV SSL certificate; hence it can be issued and installed quickly within a matter of minutes.
Up to 256-bit SSL Security: It offers robust 256-bit encryption, which provides a high level of security for your website and protects sensitive information.
99.9% Browser Recognition: It ensures widespread compatibility and is recognized across various browsers, thus maximizing user trust and accessibility.
Unlimited Server License: It can be installed on an unlimited number of servers without any additional cost or restrictions.
Add/Remove Up to 247 SANs: With this certificate, you have the option to add or remove up to 247 Subject Alternative Names (SANs) as per your requirements.
Encrypt Unlimited Subdomains: The Positive SSL Wildcard certificate can secure an unlimited number of subdomains while also securing a primary domain.
Up to 256-bit encryption: It uses SHA-256-bit encryption with a root size of 2048 bits to provide robust security for your website's data.
FREE Static Site Seal: With this certificate, you can enhance your website's credibility with visible trust indicators, such as HTTPS URL and a secure padlock, providing visible assurance of your website's secure connection.
Domain Validated: The certificate comes with domain validation, so to obtain this certificate, you need to prove the ownership of the domain to Comodo CA. This whole process is completed within 5 to 10 minutes at max.
Install on Multiple Servers: With this certificate, you can enjoy the freedom of unlimited server licensing, allowing you to install the certificate on as many servers as needed without any additional cost or restrictions.
Trusted by all browsers: The Comodo PositiveSSL Wildcard Certificate is trusted and compatible with 99.99% of web and mobile browsers.
Protect Multiple Subdomains: The Comodo Essential SSL Wildcard can protect a single URL along with all of its associated subdomains at different levels.
Industry-Standard 256-bit Encryption: The certificate ensures robust security for your website's data with industry-standard SHA-256 bit encryption.
Trust Seal: The EssentialSSL Wildcard certificate comes with a static trust seal that enhances the user's trust in the website and assures them their data is secured from prying eyes.
Domain Validation: It is domain validated; hence you only need to wait for about ten minutes before you can start using this certificate to secure your website.
Flexible Deployment: This Wildcard SSL certificate is quite flexible and scalable as it can be deployed on "n" number of servers without any specific deployment conditions that need to be fulfilled.
Broad Browser Compatibility: The certificate can protect your website irrespective of the type of browser the user uses to connect to the website. It works smoothly with all modern browsers.
Versatile Security Coverage: The Sectigo PositiveSSL Wildcard Certificate can secure one Fully Qualified Domain Name (FQDN) and multiple subdomains, ensuring comprehensive protection for your online presence.
Basic Validation Level: You can easily obtain this certificate by completing a domain validation process – confirming the ownership and authenticity of your domain.
Rapid Issuance: You can get this certificate issued by the certificate authority as soon as the validation process is completed, which takes about 15 minutes max.
$50,000 Warranty: You get a generous warranty amount of $50,000, providing financial protection in the event of any potential security breaches.
Complimentary Site Seal: It comes with a complimentary site seal that serves as a visual testament to the reliability and stringent security measures implemented on your website.
Unlimited Server Licenses: You can effortlessly install this certificate on multiple servers without any extra expenses or limitations, ensuring a hassle-free deployment process.
Comprehensive Protection: This certificate protects one Fully Qualified Domain Name (FQDN) and unlimited subdomains.
Organization Validation: The Positive SSL OV Wildcard certificate is validated as per the organization validation benchmark, which helps establish the authenticity and legitimacy of your business.
Timely Issuance: You can expect this certificate to be issued within a reasonable timeframe of 1 to 3 days, ensuring a prompt deployment of secure services for your website.
$250,000 Warranty: The Positive SSL OV Wildcard certificate comes with a $250,000 warranty which will be given to the end user in the event of any mishappening on the Certificate Authority's side.
Unlimited Server Licenses: It can be installed on various servers, irrespective of demographic locations, without any hidden charges.
FREE Reissuance: The PositiveSSL OV Wildcard certificate can be reissued multiple times without paying any additional cost or complexities.
Boundless Protection: The COMODO Wildcard certificate can safeguard unlimited subdomains with impregnable security, ensuring that your website remains shielded from potential threats.
Emblem of Trust: It enhances your website's credibility and inspires trust with the distinguished COMODO site seal, serving as a visual symbol of a reliable and recognized security provider.
Financial Assurance: The certificate comes with a total $250,000 warranty, providing comprehensive monetary protection in the unlikely event of security breaches.
Limitless Reinstatement: With the COMODO Wildcard certificate, you can experience the freedom of unlimited reissuance for your certificate without paying any extra cost.
Rapid Deployment: It is a DV certificate; hence you can use it to secure your website within minutes through swift issuance.
Extensive Coverage: The Premium Wildcard SSL certificate shields your primary domain and its entire subdomain network, offering protection across your expansive online infrastructure.
Elite Security Solutions: You can use this certificate to elevate your security standards, fortifying your website and its subdomains against potential vulnerabilities and empowering you with robust defense mechanisms.
Infinite Server Flexibility: With this wildcard certificate, you can unlock the potential of unlimited server installations, enabling you to secure multiple servers under a single umbrella.
Unrestricted Renewal Privileges: You can manage and update your certificate at will without limitations or paying additional costs.
Accredited Validation: This wildcard certificate comes with organization validation, assuring your website users that your organization has undergone a rigorous verification process and the information they are entering will not be used by any malicious person.
Versatile Domain Coverage: With this Positive Multi-Domain Wildcard, you can protect your primary domain with 2 FREE SANs, extending your protection to multiple subdomains.
Dynamic SAN Configuration: With this certificate, you can secure one domain and a combination of 1 Standard SAN and 1 Wildcard SAN – permitting you to customize the certificate to secure specific domains and subdomains effortlessly.
Robust Encryption: It uses 256-bit SSL encryption to ensure the confidentiality and integrity of data transmitted through your website.
Universal Browser Acceptance: The Positive Multi-Domain Wildcard certificate offers a widespread browser recognition of up to 99.9%, ensuring seamless compatibility and a trusted browsing experience.
Limitless Server Flexibility: It can be installed on various web servers to protect multiple-level domains while paying only for one certificate.
Scalable SAN Management: With this wildcard certificate, you can add or remove up to 247 SANs, which allows you to adapt your SSL certificate to your evolving needs.
Financial Protection: Comodo CA offers $250,000 as a warranty if any data breach occurs because of their negligence or error.
Swift Certificate Issuance: You can get this wildcard certificate issued within 1 to 3 days, as it is an Organization Validated certificate which has undergone light business verification.
Broad Browser Support: It is supported across 99.99% of popular browsers, enabling your website to reach a larger audience while maintaining a seamless and secure user experience.
Organization Validation: This wildcard certificate undergoes an organization validation process to verify the legitimacy of the business entity owning the certificate, providing a higher level of trust and security to visitors.
Main Domain + 2 FREE SANs: This Multi-Domain SSL certificate allows you to secure your main domain and two additional SANs (Subject Alternative Names) at no additional expense.
1 Standard SAN + 1 Wildcard SAN: Benefit from the versatility of this SSL certificate, which includes one Standard SAN for securing specific domains and one Wildcard SAN SSL for protecting unlimited subdomains, ensuring exhaustive coverage for your online assets.
Add/Remove Up to 247 SANs: With the flexibility to add or remove up to 247 SANs, this SSL certificate allows you to easily manage and protect many domains and subdomains per your necessities.
Massive Warranty: The certificate comes with a $250,000 warranty, assuring that in the event of a security breach, you will be compensated for any eligible damages incurred.
Free Re-issuance: You can renew or replace your Comodo UCC Wildcard certificate without additional charges.
Robust Enterprise Encryption: This Enterprise SSL Pro Wildcard certificate provides industry-leading encryption protocols and algorithms, ensuring a stable and secure data transmission environment for enterprise-level applications and communications.
Protect Unlimited Subdomains: With this wildcard SSL certificate, you can safeguard an infinite number of subdomains with one certificate; thus eliminating the need for individual certificates for each subdomain.
Install on Multiple Servers: You can install on multiple servers, providing flexibility and scalability to secure your applications and websites across the entire server infrastructure.
$1,500,000 Warranty: The Certificate Authority provides valuable financial protection in the unlikely event of a security breach caused by a flaw at the certificate authority's (CA) end through a substantial warranty of $1,500,000, ensuring that eligible losses are covered.
COMODO Secure Seal: The Certificate displays the trusted COMODO Secure Seal on your website to assure visitors that their data is protected by a recognized and reliable security provider, boosting their confidence and trust.
Why Buy Wildcard SSL Certificates from CheapSSLWeb?
CheapSSLWeb.com is a devoted online platform that focuses on delivering SSL certificates at exceptionally reasonable rates compared to alternative providers in the industry. Their main objective is to ensure that SSL certificates are accessible and cost-effective for website owners, allowing them to enhance online security without exceeding their budget. When considering a wildcard SSL certificate, CheapSSLWeb.com stands out for the following reasons:
Live Chat Support for 24/7
At cheapsslweb.com, you can access their Live Chat feature. This means you can communicate directly with their SSL, Wildcard, Code Signing, and Email Signing experts around the clock. Whether you have questions about issuance, validation, or installation, their knowledgeable team is available to provide prompt assistance and resolve any concerns you may have.
SSL Resources and Tutorials
As a customer of cheapsslweb.com, you gain access to SSL resources and tutorials. These valuable materials serve as a guide, helping you easily navigate the world of SSL certificates. From SSL validation resources to SSL installation guides, you'll find a treasure trove of knowledge to support you throughout your SSL certificate journey.
One-Click CSR Tool
Cheapsslweb.com takes the hassle out of generating Certificate Signing Requests (CSRs) with their one-click CSR tool. This user-friendly feature simplifies the process, allowing you to quickly generate the necessary CSR for your Wildcard SSL certificate, saving you time and effort.
24/7 Email Ticketing Support
Cheapsslweb.com understands the importance of providing comprehensive support. That's why they offer 24/7 email ticketing support. If you prefer to communicate via email or have more complex inquiries, their dedicated SSL support experts are ready to assist you promptly and efficiently.
Download Free Site Seal
As a testament to the trustworthiness of your website, cheapsslweb.com offers a free site seal that you can proudly display. This trust-enhancing seal confirms that your website's authenticity has been verified, instilling confidence in your visitors. By providing this valuable site seal, cheapsslweb.com supports you in establishing credibility and creating a secure online environment.
Comparing Wildcard SSL Pricing: CheapSSLWeb vs. Other Websites
When it comes to wildcard SSL certificates, it's essential to consider pricing to make an informed decision. In this section, we will compare the pricing offered by CheapSSLWeb.com with other certificate authorities in the market.
CheapSSLWeb.com
The wildcard certificates at CheapSSLWeb.com starts at just $19.99 per year, making them an affordable choice for website owners seeking to secure multiple subdomains under a single certificate.
Other Certificate Authorities / Third-party SSL Vendors:
In comparison to other certificate authorities, the pricing for wildcard SSL certificates can vary significantly, such as:
| | |
| --- | --- |
| Website | Price ($/yr) |
| Godaddy | 157.09 |
| CheapSSLWeb.com | $19.99 + Additional 12% Off |
| SSL.com | 224.25 |
Conclusion
In conclusion, CheapSSLWeb.com emerges as a top choice for purchasing Wildcard SSL certificates. With wildcard certificates starting at just $19.99 annually, CheapSSLWeb.com ensures website owners can enhance their online security without straining their budget.