Wildcard SSL Certificate Price Comparison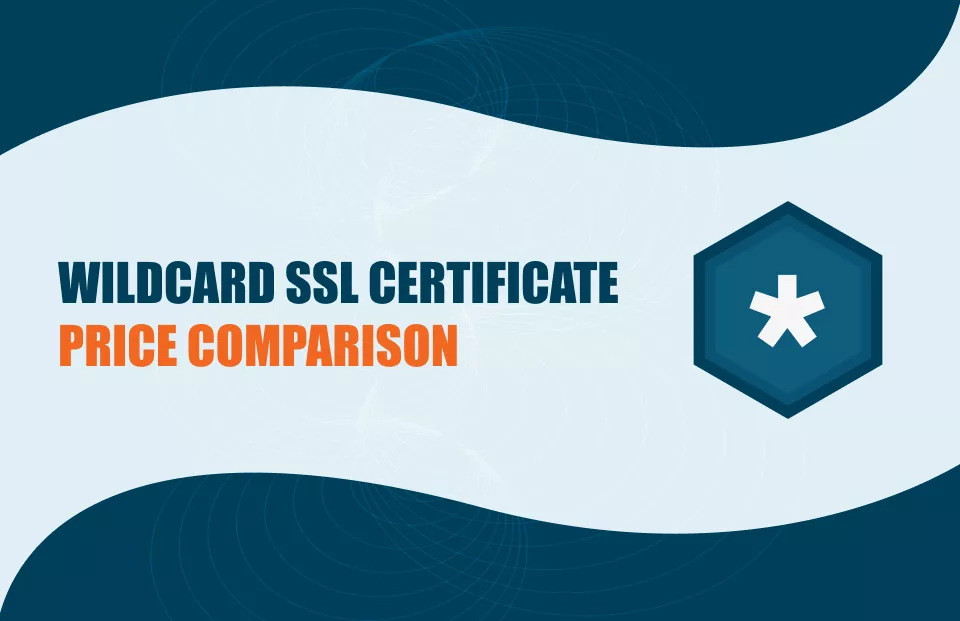 Wildcard SSL Certificate Price Comparison by Brands, Features, and Functionalities
Are you looking for the best wildcard SSL certificate price? Look no further – we have put together an up-to-date wildcard SSL certificate price comparison so you can easily find the right option for your needs.
Whether you are running an ecommerce store or any other website, a Wildcard SSL Certificate is essential in providing secure connections to protect sensitive information and increase user trust. With this wildcard SSL certificate price comparison, you can quickly compare options from multiple providers and select the one that fits your budget.
We have broken down each provider's pricing structure and added helpful tips to ensure you get the most out of your purchase.
So, let's get started.
What is a Wildcard SSL Certificate?
A Wildcard SSL Certificate is a special type of digital certificate that allows you to secure your entire domain and unlimited subdomains with a single certificate. It is much more cost-effective than getting individual certificates for each subdomain, as the wildcard certificate can secure all of them simultaneously. With this type of SSL Certificate, you get the same level of encryption and security as any other type – 256-bit encryption and 2048-bit signature key – but at a lower price.
Websites that use Wildcard SSL Certificates can also benefit from increased search engine rankings since Google has started rewarding sites secured with an SSL Certificate or HTTPS.
Benefits of Using a Wildcard SSL Certificate
There are different benefits to using a Wildcard SSL Certificate. Mentioned below are these significant benefits:
● Unlimited Subdomains Protection
A Wildcard SSL Certificate enables you to secure unlimited subdomains on a single domain using just one certificate. This makes it more cost-effective and less time-consuming compared to Multi-Domain or SAN Certificates, which would require multiple certificates for each subdomain.
● Cost Effective
One of the most significant benefits of using SSL wildcard certificates is that it can provide cost savings. With traditional single-domain certificates, you must purchase and manage separate certifications for each site or subdomain. However, with Wildcard certificates, you only need to purchase one certificate for all your sites and subdomains.
This makes it an efficient way to save time and money in its price comparison when compared to buying multiple single domain certificates from different providers. Additionally, some companies offer discounts when renewing a wildcard certificate.
● Easy Certificate Management
Implementing a Wildcard SSL Certificate simplifies the certificate management process significantly. It allows you to secure multiple subdomains with one single certificate, so there's no need to purchase and manage additional certificates for each domain or subdomain.
This not only reduces complexity but also minimizes costs, as compared to traditional single-domain certificates. Furthermore, it ensures that all your sites are secured quickly and easily since you don't have to go through the validation process each time.
Read Also: Where to Buy Wildcard SSL Certificate in 2023?
Wildcard SSL Certificate Price Comparison for Top Vendors
There are various vendors and certificate authorities offering wildcard SSL certificates at different prices. When it comes to finding the best wildcard SSL certificate price, it is important to compare the costs of different vendors and providers to get the most affordable and reliable solution. Here are some of the top vendors who offer cheap wildcard SSL certificates and their respective prices:
1. CERTERA
CERTERA's wildcard SSL certificate is your ultimate and economical solution for website security. Starting at just $19.99/yr, it provides a wide range of features such as secure WWW & Non-WWW Domain, issuance in 10 Minutes, a $10000 Warranty, SHA-2 Algorithm support, and trusted by all Browsers plus the added bonus of Free Site Seal included! It is an unbeatable choice when searching for ways to protect your small business' website hassle-free and economically safely!
2. COMODO
COMODO SSL CA offers a Wildcard SSL Certificate for only $33.99 per year, with a wealth of features included. The certificate provides the main domain plus unlimited subdomains security on different servers including unlimited re-issuance facility. All comodo certificates comes with 256-bit encryption and 2048 bit RSA signature key. There are variety of SSL/TLS certificates in different types like domain validated and organization validated. It is Domain Validated, meaning its authenticity has been verified by COMODO, and it utilizes premium SSL encryption for maximum security.
Additionally, unlimited server licenses are available, and issuance of the certificate can be completed in just minutes. All these features make COMODO an excellent choice for securing multiple domains with one Wildcard SSL Certificate.
3. SECTIGO
Sectigo SSL CA is pleased to offer a Wildcard SSL certificate at an unbeatable price of $33.99/yr, along with numerous features that make it worth investing in. Not only does the main domain get covered, but you also unlimited multiple subdomains- and if required, you can opt for higher version of multi-domain wildcard where you can add and edit up to 247 SANs! Moreover, thanks to its Domain Validated validation process requiring zero paperwork, you can get your certificate issued within minutes.
On top of this amazing convenience comes 256-bit encryption for secure protection and unlimited server license covering all your servers – making Sectigo's Wildcard SSL certificate one steal deal!
Factors that Affects the Price of Wildcard SSL Certificate
Several factors influence the cost of wildcard SSL certificates. Mentioned below are some of the significant factors that affect the price of a wildcard certificate.
➔ The Best Certificate Authority (CA)
When it comes to issuing digital certificates and verifying them, the Certificate Authority (CA) is your go-to organization. However, different CAs provide varying levels of verification, which cause price distinctions between companies. Plus, some CAs may include additional features like a website or email protection for an added cost when deciding on a Wildcard certificate.
➔ Protect Unlimited of Subdomains
The number of subdomains protected by this certificate also affects its cost. Businesses require multiple subdomains to be secured with an SSL certificate as they have numerous web pages or services that need protected communication channels. With each added subdomain, the cost of an SSL certificate also increases. It is, therefore, important to carefully consider the number of subdomains that need to be secured before purchasing a wildcard SSL certificate.
➔ Multiple SSL Validation Options
The validation level of a SSL certificate also plays a vital role in determining its cost. A domain validated (DV) Wildcard SSL Certificate can be issued quickly as it only needs basic information from the organization and does not require any additional documents for verification.
However, higher levels such as Organization Validated (OV) require more stringent authentication processes, which causes the prices to increase accordingly. Therefore, businesses should choose a validation level as per their budget and security requirements.
➔ 100% Web Browsers Compatibility
Before opting for a Wildcard SSL certificate, ensure that it is compatible with the browsers, servers, and applications you use. If not, visitors to your site may be met with warning messages. Furthermore, if you are utilizing older encryption protocols like TLS 1.0 or earlier, these will not work as newer SSL/TLS certificates require stronger encryption such as TLS 1.2 or higher for optimal security protection.
➔ Renew Wildcard SSL Quickly
Wildcard certificates, just like any other digital certificate, must be periodically renewed to remain effective and safe. Unfortunately, the majority of vendors require a full price for renewing their Wildcard SSLs– potentially resulting in a generous annual cost for those who don't plan ahead.
➔ Unlimited Server Licenses Count
Many Wildcards SSL certificates come with multiple licenses attached to them depending on how many servers you are running your website from, so it is important to understand how many licenses are required before buying your wildcard SSL certificate. All major certificate authorities such as Comodo, Certera, and Sectigo offers unlimited server licenses with each certificate, so it's not worry point. However, there are other commercial certificate authorities who charges additional licenses cost for higher version of wildcard certificates.
➔ Unlimited Re-issuance Policy
Depending on the vendor or certificate authority you use to purchase your Wildcard SSL Certificate, you may be charged for re-issuance of the Certificate. It is important to read through the vendor's terms and conditions before making a decision as some vendors offer free re-issuance while others charge a fee.
Read Also: EV Wildcard SSL Certificate: Possibility or Myth?
The Bottom Line While SSL Wildcard SSL Certificate Price Comparison
It is important to take time to compare different wildcard SSL certificate prices, as the cost of a certificate can vary significantly. When searching for a wildcard certificate, consider not just the price but also other features such as the encryption strength, warranties and customer support offered by each provider. By doing this, you should be able to find the best value solution that meets your needs. Ultimately, it is up to you to determine which type of wildcard SSL certificate is right for your website and budget.
CheapSSLweb is committed to providing the highest quality SSL certificates at some of the lowest prices in the industry. They offer a range of options including Wildcard SSL Certificates, so you can be confident that you are getting the right certificate for your website and budget. Secure your website today with an affordable and trusted SSL Certificate from CheapSSLweb!