Wildcard SSL Vs Standard SSL Certificate – Technical Differences Explained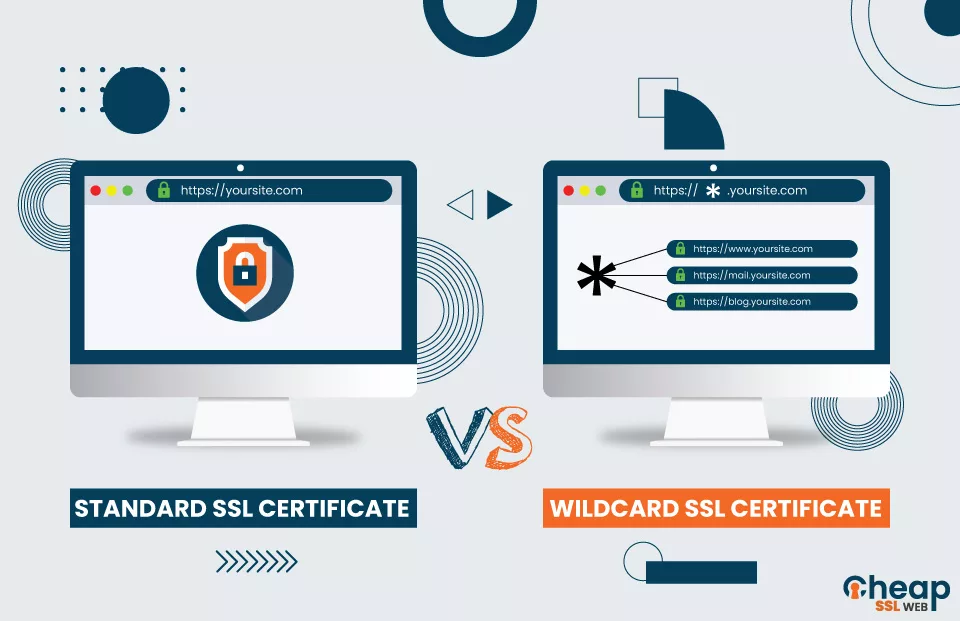 A Detailed Guide on Technical Differences Between Wildcard SSL and Standard SSL certificates
You don't need to purchase a separate certificate for each of your domains, though. Understanding Wildcard SSL vs. Standard SSL certificate possibilities is essential to avoid squandering resources and money on individual certificates for all of your domains.
The most advantageous choice will depend on your explicit needs and budget. Without knowing about the certificate choices, it will be unsmart to make any decision. In this article, learn each technical difference between standard SSL and wildcard SSL certificates.
What is Standard SSL Certificate?
A single-domain SSL certificate is most commonly referred to as standard SSL. Your domain names, such as www.domain.com or domain.com, are secured by this specific sort of SSL certificate. The unique domain SSL certificate ensures that whenever a user visit with www.domain.com, the information/data flowing from their client (browser) to the server (website) is not stolen by a scammer.
Use cases of standard SSL certificates
Although they pass through the public Internet, digital interactions are kept private with the use of SSL certificates, which also offer users the confidence to enter their private data on your site.
You must safeguard the data whenever you request website visitors to sign up, provide private data such as debit or credit card numbers, or access your confidential details like financial or health reports. Additionally, you must reassure consumers that your site is legitimate.
Additionally, SSL is utilized for server-to-server interaction, web-based applications, email servers, and other things.
How to View Standard SSL in Web Browsers?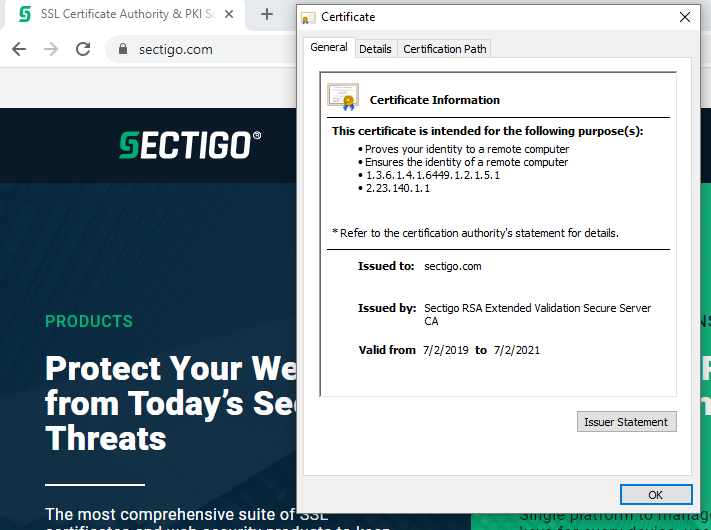 Top Standard SSL Certificates:
Comodo Positive SSL: For websites that only require a minimal amount of validation and don't require access to sensitive user data, Positive SSL from Comodo is the ideal option.
Comodo Instant SSL Pro: With a $100,000 higher guarantee, Comodo Instant SSL Pro offers all the advantages of the company's regular Instant SSL certificate. It includes an unlimited number of physical server licenses, a free TrustLogo site seal, and unlimited PCI scanning with regular website vulnerability testing for an entire year.
Comodo Essential SSL: It always secures connections between users' web browsers, websites, and servers to safeguard websites. As a result, Essential SSL safeguards all communication and also preserves data.
Advantages:
Ensures top-notch security by encrypting data or information only the intended recipient can read.
Protects data access from unauthorized third-party access by reaching the right server.
SSL authentication helps build trust in your visitors and represent your website as legit and safe.
Protects users from receiving any phishing emails that are direct to other websites.
Disadvantages:
It can be expensive to buy a standard SSL certificate due to the verification and maintenance process involved.
If SSL is not deployed properly, your website will display – 'data is not protected' – to the visitors.
Read Also: Multi-Domain SSL Vs. Wildcard SSL – The Key Differences Explained
What is Wildcard SSL Certificate?
A wildcard SSL certificate offers all the advantages of using an SSL certificate, in addition to providing a private network for your visitors to your website. A wildcard SSL certificate's unique capability to safeguard an infinite number of subdomains sets it apart.
All you have to do is ensure that all of your subdomains are safeguarded in conjunction with your domain name throughout the issuance process is include an asterisk, like *.domain.com, in the FQDN box or the Fully Qualified Domain Name box.
Use cases of wildcard SSL certificates
Whenever configuring Browser Access applications within an application segment, ZPA enables employing wildcard certificates. Numerous FQDNs or fully qualified domain names can be used with a single wildcard certificate or across diverse application areas. For instance, you could establish two application segments:
App1 that includes example.com
App2, includes app2.example.com
You utilize the same wildcard certificate, *.example.com, for both application segments.
A wildcard certificate may also be used with a wildcard app. While the wildcard application supports subdomains, the wildcard certificate only works with one level.
How to View Wildcard SSL in Web Browsers?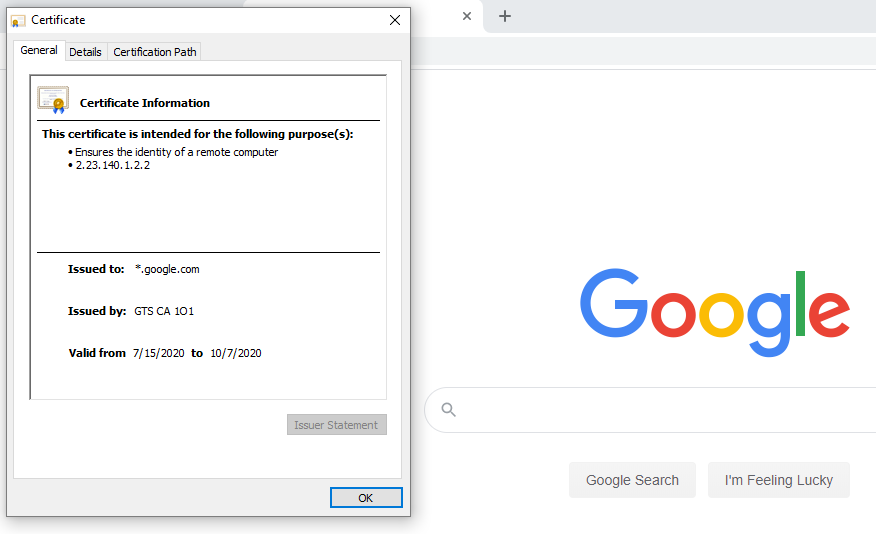 Top Wildcard SSL Certificates:
The two most popular and top-ranking Wildcard SSL certificates are as follows:
Sectigo Positive SSL Wildcard: It is an excellent premium Wildcard SSL and is best known for providing full, optimal security. It offers certified business data to visitors anytime they click on a website or verify the certificate.
Comodo Wildcard SSL: These SSL certificates are best suited for all large-scale business websites who seek fast, efficient, and seamless security of their website's portfolio.
Advantages:
A single wildcard certificate is all you need to secure a domain and unlimited sub-domain.
The wildcard certificate is ideal for SMEs who want to secure unlimited subdomains without any extra charge.
These certificates are simpler to manage. It alleviates the need to repeat deploying different certificates for different subdomains every renewal.
Issuance of this certificate takes a few minutes, and you can get it within two days as the verification process is fast.
It offers a 'Padlock' to your website, which is an excellent Trust indicator. It indicates that SSL encryption is taking care of the website's security.
Disadvantages:
The major drawback of these certificates is that if a single subdomain or server is hacked or damaged, so will the other subdomains.
These certificates are somewhat tricky to deploy on third as well as second-level subdomains.
Read Also: Positive SSL Wildcard Vs Essential SSL Wildcard Comparison
Technical Differences Between Standard SSL and Wildcard SSL
Technical Specifications
A server certificate with a typical SSL certificate has a basic level of authentication. A regular SSL certificate will not really offer as thorough of a company evaluation as an OV or EV certificate while using the same grade of tech to safeguard the interaction.
Uses for
Regarding wildcard SSL vs standard SSL, freelancers, bloggers, and small businesses who own a website with a single domain use a standard SSL certificate. Meanwhile, wildcard SSL certificates are used by SMEs, eCommerce website owners and large enterprises that need to secure a server and unlimited sub-domains.
Warranty
In comparison to a company-validated certificate, a commercial standard SSL certificate typically has a smaller guarantee. The general guideline is that the warranty amount should increase as the danger does. The guarantee for a regular SSL certificate tends to be lesser because, in practice, only websites with minimal risks should use them.
Encryption Protocols & Algorithms
All of the certificates you purchase from a reputable company will use the most recent SHA-2 algorithm and deliver up to the standardized 256-bit encryption as well as a 2048-bit RSA signature code. So, both Standard and Wildcard SSL certificates will all have the same technical setup.
Validation Levels
Domain validation (DV), the lowest degree of certification, applies to all ordinary SSL certificates. In this case, the applicant merely needs to demonstrate domain authority. In comparison to other forms of SSL certificates, the domain verification system is the simplest and quickest.
Cost
The cost of a standard SSL certificate ($2.99 per year) is comparatively lower than the cost of a wildcard SSL certificate ($19.99 Per Year). The reason is simple: Wildcard certificate ensures the security of a domain as well as unlimited sub-domain, which the standard one does not.
Issuance Time
There is no such difference in the issuance time of these certificates. When it comes to standard SSL vs wildcard SSL, you must know that both come with an issuance time of around 15 minutes. However, the fact that wildcard certificates involve a fast verification process means the certificate may get issued a minute or two earlier than the standard SSL.
Read Also: Wildcard SSL Certificate Vs. SAN Certificate
When To Use Standard SSL and Wildcard SSL Certificates
If your website requires logging in, SSL is necessary to protect user identities and credentials. SSL is required if you are deploying forms that request sensitive user information to prevent hackers from stealing your customers' data. You might require an SSL certificate if your website conducts business online.
Local firms, freelancers, bloggers, test domains, and other entities needing a protected HTTPS connection for a particular domain are best served by domain validation certificates. A standard DV Certificate cannot secure many domains and subdomains, which is what a larger corporation entails.
Additionally, the Standard DV SSL Certificates doesn't really enable the green address bar or offer an identity guarantee. Depending on your individual needs, it's advisable to use Wildcard SSL Certificates for firms who are seeking those additional benefits.
Standard SSL and Wildcard SSL Certificate Price and Compatibility Comparison
| Features | Standard SSL | Wildcard SSL |
| --- | --- | --- |
| Product Name | Comodo PositiveSSL | Comodo PositiveSSL Wildcard |
| Pricing | $5.49/yr | $38.99/yr |
| Encryption Strength | 256 Bit Encryption | 256 Bit Encryption |
| CSR Signature Key Length | 2048 Bit | 2048 Bit |
| Validation Requirements | Domain Validation (DV) | Domain Validation (DV) |
| Server Licenses | Unlimited | Unlimited |
| Re-issuances | Unlimited | Unlimited |
| Web Browser compatibility | 99% | 99% |
| Mobile and OS support | 99% | 99% |
| Warranty | $10000 | $10000 |
| Refund Policy | 30 Days | 30 Days |
Conclusion
So, with this comprehensive guide, you must now have a proper idea of the difference between standard SSL vs. wildcard SSL certificates. The private key must be kept secure because it is dispersed over several servers, and if one secret key is hacked, the security of all subdomains will suffer.
In summary, Wildcard SSL has much more benefits than drawbacks. Invest in it since this affordable certificate's rapid and simple issue will secure your entire company.