What is a Standard Wildcard SSL Certificate?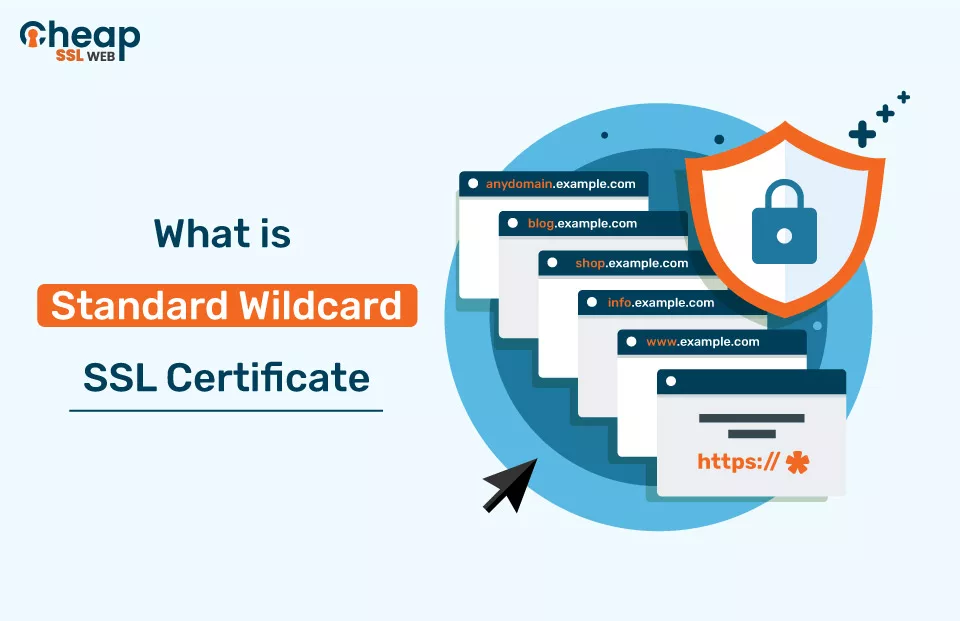 Demystifying Standard Wildcard SSL Certificates: An In-depth Overview
As websites and online services handle sensitive information, the need for robust SSL certificates has grown exponentially. Among the various types of SSL certificates available, one that stands out is the – Standard Wildcard SSL Certificate.
But what exactly is this certificate and what makes it unique? What features does it have? In this article, we will discuss all there is to know about these certificates while answering the above questions. So, without any further delay, let's start the article.
What is a Standard Wildcard SSL Certificate?
A Standard Wildcard Certificate is a combination of two types of SSL certificates – a Standard SSL Certificate + Wildcard Certificate. Due to this combination, a standard wildcard certificate is able to secure a single domain (URL) along with "n" number of specific level subdomains associated with it.
In layman's terms, a standard wildcard SSL certificate secures a primary domain and an unlimited number of its subdomains.
In a Standard Wildcard Certificate, the wildcard character (asterisk (*) symbol) plays a crucial role. It is typically placed before the domain name, or CNAME filed, allowing the certificate to secure not just the specified domain but also all its subdomains. In simple terms, this character acts as a placeholder, allowing the certificate to cover any subdomain under the specified domain name.
Standard Wildcard Certificate Example
For example, a standard wildcard certificate, issued for "*.standardwildcard.com", will be able to cover these subdomains –
shop.standardwildcard.com
best.standardwildcard.com
blog.standardwildcard.com, and so on.
The standard wildcard character (wildcard character (*)) cannot cover multiple levels of subdomains. For example, if your certificate is issued for ".standardwildcard.com," it will secure any subdomain under "standardwildcard.com," but it will not cover subdomains like "new.ssl.standardwildcard.com" or "admin.shop.standardwildcard.com."
Standard Wildcard Certificate Authentication Process
A Standard Wildcard SSL certificate is a certificate that undergoes domain validation (DV). To obtain this certificate, the CA will request you to prove your control over the domain for which you are requesting the certificate. You can prove the domain ownership by using any one of these methods:
Email Verification
If you want to use this option, then in that case, the CA will send an email to the domain's designated email addresses, such as [email protected], [email protected], etc. Your task is to respond to the email to confirm your ownership.
DNS Record Verification
If you select this verification method, you will be required to generate a specific DNS record (TXT or CNAME) that includes a unique value provided by the CA. This record must be added to the DNS configuration of your domain. The CA will then verify domain ownership by checking for the existence of the record.
File Upload Verification
If you choose this option, the CA will request you to upload a specific file with a specific name and content to the root directory of your website. The CA will confirm domain ownership by validating the presence of this file.
Features of a Standard Wildcard Certificate
A Standard Wildcard SSL Certificate offers several notable features that make it an attractive choice for many website owners:
Unlimited Sub-Domain Security
With a standard wildcard certificate, you can secure an unlimited number of subdomains under a single FQDN (www and non-www).
Effortless SSL Management
Managing multiple certificates for each sub-domain can be time-consuming. A DV wildcard certificate simplifies this process by consolidating the management of all subdomains underneath one certificate.
Cost-Effective
Since it covers multiple sub-domains, it can save you money compared to purchasing individual certificates for each sub-domain.
Guaranteed Refund
Reputable Certificate Authorities like Comodo SSL CA, SECTIGO SSL CA, Certera, etc., often offer a 30-day refund policy with this SSL cert, providing peace of mind if you encounter any issues or are unsatisfied with the product.
Free Site Seal
A site seal is a visual indicator that assures visitors that your website is secure. Many standard wildcard certificates come with a free static site seal, adding an extra layer of trust.
Generous Warranty Coverage
The standard wildcard certificate includes a substantial warranty amount to provide peace of mind. The Certification Authority (CA) offers an impressive warranty of up to $10,000 in the rare occurrence of a data breach resulting from any CA-related issues. This warranty serves as a protective measure, ensuring that any potential damages arising from such incidents are covered.
Reissuance
With this SSL certificate, you have the benefit of unlimited reissuance. This means you can request a certificate reissue whenever needed, ensuring continuous security for your domain and its subdomains without any limitations.
Cryptographic Encryption
It employs robust cryptographic encryption measures. It utilizes an RSA key length of 2048 bits, ensuring a solid encryption foundation. The certificate's encryption algorithm employs SHA-256, providing a high level of encryption strength with 256-bit encryption.
Visible Trust Indication for Users
It provides visible trust indications for users. This includes the display of the "HTTPS" prefix in the website URL, a static trust seal indicating the website's security, and a padlock symbol in the browser's address bar. These visual cues assure users that their connection is encrypted and their data is secure.
Mobile and Web Browser Compatibility
These certificates have excellent compatibility with more than 99.99% of browsers, allowing visitors to access your website securely from various devices and platforms.
Issuance Period
The issuance of a standard wildcard SSL certificate typically takes just a few minutes, ranging from 10 to 15 minutes. This ensures a quick and efficient process, allowing you to secure your domain and its subdomains promptly.
In what cases is a Standard Wildcard SSL inadequate?
While a Standard Wildcard SSL Certificate offers numerous benefits, there are specific scenarios where it may not be sufficient. Some cases include:
Restricted Domain Coverage
If you have multiple main domains, each with its own sub-domains, a wildcard certificate won't cover all of them. In such cases, a standard wildcard SAN SSL certificate may be more appropriate.
Validation Issues
Standard Wildcard certificates are domain-validated, which means they provide basic verification. If you require more rigorous authentication, such as Extended Validation (EV) certificates, a standard wildcard certificate may not meet your needs.
Where to buy Standard Wildcard SSL Certificate?
When it comes to purchasing Standard Wildcard SSL certificates, CheapSSLWeb stands out as the ultimate destination. This platform offers these cheap SSL certificates at an incredibly affordable price of only $19.99 per year. This unprecedented pricing firmly establishes CheapSSLWeb as the most budget-friendly option within the entire SSL certificate industry.
In addition to the already unbeatable price, CheapSSLWeb is offering an exclusive 12% discount on all cheap Wildcard SSL Certificates. This generous discount enables customers to maximize their savings and secure multiple subdomains.
Apart from offering these certificates at such a low price, the platform also offers the following:
24*7 email ticketing
Live chat
24/7 support via a call & ticketing
One-click CSR tool
Validation resources
SSL Installation guides
Free site seal, and much more.
Top 8 Standard Wildcard Certificates in 2023
Conclusion
The Standard Wildcard SSL Certificate secures a primary domain and an unlimited number of its subdomains. However, it may not be suitable in cases of restricted domain coverage or when more rigorous authentication is required. Overall, the Standard Wildcard SSL Certificate is a reliable and efficient choice for securing websites and their subdomains without making a dent in your pockets.