How to Install Wildcard SSL Certificate on IIS 7 or 8 Windows Server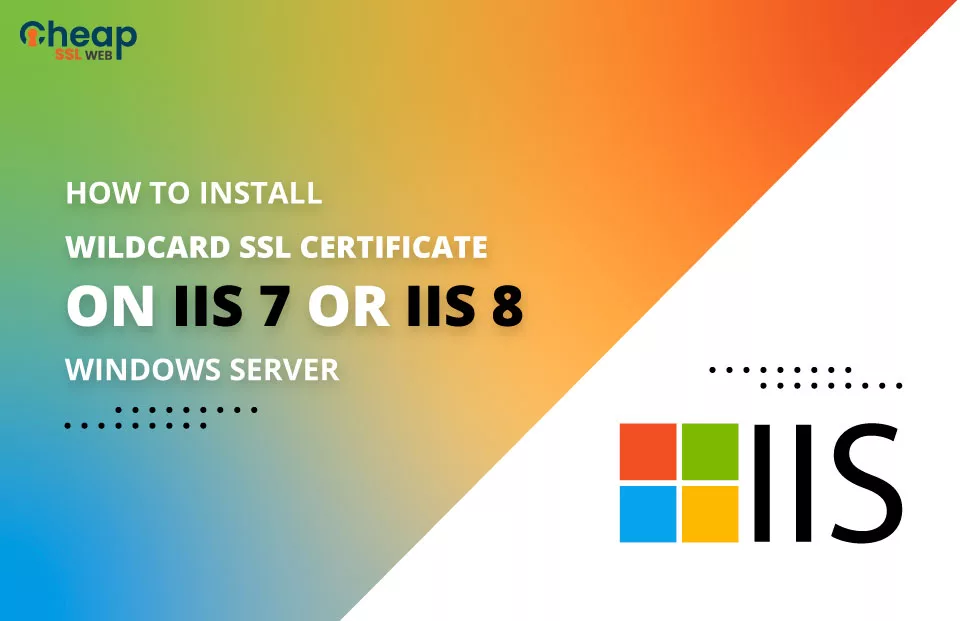 Did you purchase the Wildcard SSL Certificate? Then you might be pretty curious to learn how you can properly get it installed in Microsoft IIS 7 and 8 windows servers. Not installing the SSL certificate correctly can lead to issues such as SEC_ERROR_UNKNOWN_ISSUER Error, SSL Handshake Failed Error, and many more for your clients when they try to access all the websites on HTTPS.
Experts have pointed out that the IIS 7 or Microsoft IIS 8 are extremely popular windows servers. So, knowing how to properly install the Wildcard SSL Certificate will be helpful for you as it can help you create an encrypted environment for users to interact with a website on HTTPS.
Whether or you have already used the Wildcard Certificates before or you're a complete beginner, in this post, you will provide you information on how to install it into IIS 7 or IIS 8 windows server.
What is a Wildcard SSL Certificate & Why Do You Need One?
The Wildcard SSL certificate is a subdomain SSL certificate that has a wildcard character (*.yourwebsite.com) in the domain section. The certificate can protect all the subdomains under one single domain on multiple servers.
When the clients take a look at the name of the subdomain under this certificate, he/she utilizes a shell expansion procedure to check whether or not it matches properly.
With the help of this ssl certificate, it will become a lot easier for you to manage all the subdomains instead of filling out all the CSRs [Certificate Signing Requests]. You can also manage countless TLS or SSL certificates for all the URLs.
When you have subdomains and you wish to utilize HTTPS on IIS windows server, the Wildcard SSL certificate will be worth opting for, especially for ease of implementation and the cost.
Requirements for Installing a Wildcard SSL Certificate on IIS 7 and 8 Windows Servers
You need to have some prerequisite requirements before you start the process of installing the certificate on these servers.
Let's take a look at them before we access the servers to add bundle certificates.
Step 1: Purchase the Wildcard SSL Certificate
Purchasing the Wildcard SSL Certificate and also from a trusted re-seller is the first thing that you should do. You can start by generating a CSR [Certificate Signing Request] and then get the Certificate issued by the CA [Certificate Authority] after the standard validation process of your primary domain or website.
Step 2: Install the Certificate into IIS 7 or the IIS 8 Windows Servers
To start the installation process of the SSL Certificate, you need to go to the "Start Menu" option and then look for the "Administrative Tools". After that, choose the IIS or Internet Information Server Manager.
On the left side, you have to provide the name of the server where you wish to install the certificate and from the "Features" option, go to "Security" and press on the "Server Certificates" option.
You can easily generate a Certificate through the "Actions" option, which is located on the right side of the desktop screen. But if the certificate is already generated, you just have to insert the location of the certificate in the "Actions" pane.
Step 3: Binding The Installed Certificate
Under this step, you have to bind the HTTPs protocols on the IIS 7 or IIS 8 server, which is needed by the websites. Once it's done, you have to allocate an installed Wildcard SSL Certificate and then apply it to keep the website well-protected.
But to bind the website after the installation of the certificate, you need to Go to the "Start Menu" and then click on the "Administrative Tools". Open the IIS Manager and from the "Server" section, choose "Sites" and then select the SSL-based sites.
After that, go to the "Actions" section and choose "Bindings." Here, in the Binding sections, you need to check whether or not there is an HTTP binding. If there is no binding click on "Edit" but there is a binding click on "Add" and then swap it to HTTPS.
Read Also: How to Create a Self Signed Certificate in IIS?
Factors to Consider when Using Wildcard SSL Certificates
Mentioned below are the major factors to consider when using certificates:
1. Cost: You will not find SSL Wildcard Certificate available at the same price from every reseller. Many of these certificates are available at a reasonable price but others can be expensive. So, it will be much better to check the price of the certificates right before you make a purchase.
2. Installation: The installation work for the certificates can take up plenty of time. If you cannot do it yourself, you should take the help of an individual who is experienced in this area.
3. Compatibility: Every web browser will support all the certificates from top certificate authorities such as Comodo SSL CA, Sectigo, and Certera. So, before you buy it, double check with the compatibility feature for web browsers, mobile devices, web servers, and OS.
4. Renewal: If you want to keep on using the website on HTTPS, you have to renew the certificate every year. Before renewing, be sure to check the cost and various other things.
5. Encryption Strength: All types of SSL certificates including Wildcard SSL Certificates offer 256-bit SSL encryption with 2048-bit RSA key, but they also come with certain risks that must be carefully considered before choosing the right SSL certificate.
By considering all these factors, you can make an informed decision about which type of HTTPS certificate is best for your website and ensure maximum security for all your primary domains, subdomains, and other websites.
What to do After Installing a Wildcard SSL Certificate?
Once you have installed your certificate, there are a few steps to make sure it is secure and properly configured.
1. Install the Intermediate Certificate – The intermediate certificate that was issued when you bought SSL, it should be installed on the server along with the main/primary certificate. This will ensure that all traffic is routed through a secure HTTPS connection.
2. Verify Installation – After the complete installation process, it is important to verify the certificate and configuration settings by using an online tool such as SSL checker tool. These SSL tools will reveal any issues in setup or configuration, so they can be fixed before a website moves completely on HTTPS protocol.
3. Manage Revocation List – Your Certificate Revocation List (CRL) should be managed regularly. This list contains a list of revoked certificates that are no longer valid, so it is important to keep this list up to date in order to maintain security.
These steps will help ensure your Wildcard SSL certificate is secure and properly configured. It is also important to monitor the performance of your certificate on a regular basis, as well as any changes made to the server configuration or hosting environment which could affect its performance.
The Bottom Line
Installing a Wildcard SSL certificate on IIS 7 or 8 is quite straightforward and relatively easy to do. After purchasing the certificate from a trusted provider, the process can be completed in a few steps without any technical knowledge.
With Wildcard SSL Certificate, you can protect all of your subdomains with one single certificate on multiple servers and make sure that your customers are protected when they visit your website. If you're looking to buy a Wildcard SSL Certificate, then check out Cheap SSL Web and secure your website today.